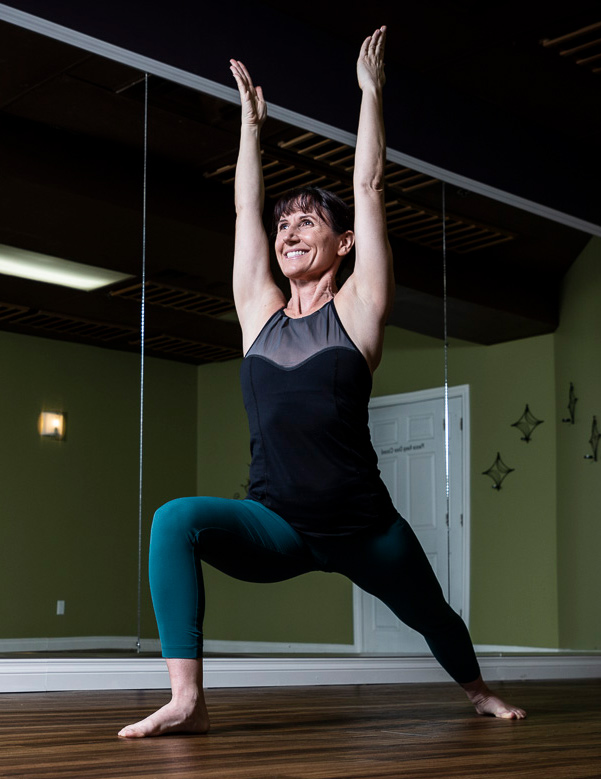 Nicole is a bona fide movement enthusiast! Throughout her life, she has explored a variety of dance styles, played a myriad of sports and experimented with a multitude of ways to move.
Nicole was a professional Belly Dance performer when she began practicing yoga. The pursuit of greater flexibility was what brought her to her mat, but the self-study that yoga inspired within her kept her coming back.
In the summer of 2010, Nicole completed 200-hour Hatha Yoga Teacher Training at Rama Lotus Yoga Centre in Ottawa, Ontario. In early 2011, she completed Mat Pilates Teacher Training at Physical Mind Institute in Vancouver.
Nicole is a lively and creative instructor. Her classes are challenging, but her quirky personality, contagious laughter and funky playlists make her classes a lot of fun too. As a teacher, Nicole strives to make a positive difference in people's lives. She strongly believes in the uplifting powers of yoga and movement. She encourages students to explore their boundless potential and release their inner sunshine.
Aside from her love of yoga and movement, Nicole is the proud mother of two accomplished young men; Kino and Kale. She is a dedicated vegan and an enthusiastic home cook. (Sometimes she brings homemade vegan goodies to class.) She is also an avid traveler and a linguist; she speaks three languages fluently and a smattering of several others.
What Members Say About Nicole
I have been practicing yoga at Kushala for over nine years. Nicole Roy has helped me progress my practice to a point where I have the core stability to safely attempt handstand and arm balances. If you are looking for a challenge in a high-energy, fun and supportive environment, come practice with Nicole!

Nicole's enthusiasm and energy are infectious! I love her classes because she always provides alternatives, so I'm able to participate to the best of my ability. And her music rocks!
Nicole Roy's Teaching Schedule