Kushala Yoga Port Moody is located in Suter Brook Village, one block North of the Inlet Centre Skytrain Station. There is free 90-minute parking in the underground parkade ($1+tax for every additional hour), and convenient access to shops like Thrifty Foods and nearby restaurants.
Kushala Yoga Ltd.
#303 – 130 Brew Street
Port Moody, BC V3H 0E3
604-461-9642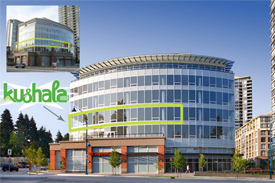 The heart of yoga in the Tri-Cities, inspired by the natural surroundings of wood, stone and water, our Suter Brook location offers two beautiful studios, two private treatment rooms, a yoga and lifestyle boutique, and a tea lounge.
How to find us: We are located in Suter Brook Village, at the corner of Ioco Drive and Murray Street, in the North Office Building (the big glass building on the corner), on the 3rd floor above the BC Liquor Store.
Driving: convenient and 90 minute free parking is available in the underground parkade. Enter the parkade from Morrissey Road, turn left at the bottom of the parkade ramp and drive towards the BC Liquor Store signs. Take the elevator up to the 3rd floor.
On foot: Enter the North Office Building (130 Brew St) through the tall glass doors between the entrances to the Liquor Store and Menchies. Take the elevator to the 3rd floor and find us at the far right end of the hallway.