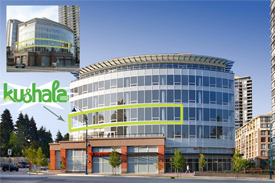 Kushala Yoga warmly invites you to take charge of your health and well-being by connecting and cooperating with your body and mind, through yoga. We are a place where you can strengthen or heal; explore or let go.
Kushala Yoga (formerly Newport Yoga) opened its doors in the winter of 2006 in Newport Village, Port Moody. We are now located in Suter Brook Village, in a beautiful 2-studio space overlooking the North Shore mountains.
Whether you seek to improve fitness, manage stress, increase flexibility, promote balance, or increase personal fulfillment; we have classes and holistic services to support your needs and aspirations.
The Owners
Kushala Yoga was founded by Chris Dunphy, a former financial adviser who turned to yoga to help deal with the pressures of modern life. In the summer of 2009, Karen Andersen moved from a career in software development to join Chris as co-owner. Both Chris and Karen found yoga to be a powerful tool to self discovery, health and wellness, and are committed to sharing this practice with the growing community.