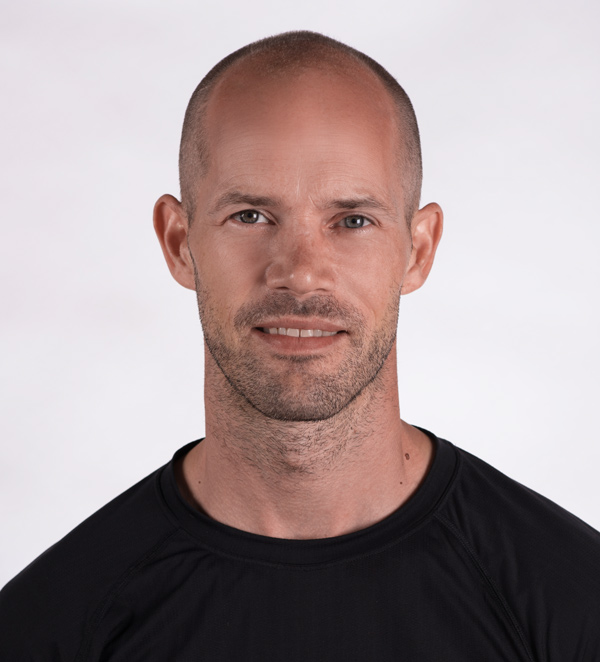 Chris Dunphy is co-owner of Kushala Yoga, and co-director of their Teacher Training Program
Chris is a yogi, father, husband, student, hockey player, gardener and outdoor enthusiast. Chris spent his younger years either on the ice, the field or on the track. The high point of his athletic career was a gold medal at the Canadian junior championships in the decathlon, a gruelling 10 event discipline that spans over 2 days. After Chris retired from competitive athletics he started work in the finance industry. After 8 years at a desk Chris began to experience both physical and mental discomfort. His body was suffering from injuries sustained throughout his athletic career, and his mind was not at ease in a job he didn't truly feel inspired to do. This is when Chris was introduced to yoga by a colleague.
The opportunity to open Kushala Yoga (formerly Newport Yoga) came in 2006. In that same year Chris quit his job in finance to devote his energy towards Kushala. In 2009 Karen became a partner in the studio and shortly thereafter in life. They have 3 amazing children, Isla, Leigh and Trace, whom you'll often see at the studio.
Chris enjoys learning and discovering new things, and yoga offers rich grounds for that. His teaching is influenced by his studies with master teachers, but more so through his self study and unending conversations on the subject with his better half, Karen.
In Kushala's Teacher Training program, he teaches anatomy and physiology, asana, pranayama, the business of yoga, and teaching methodology.
"Yoga practices have ignited a passion and curiosity about my life's path; that light has never dimmed. They have offered a continued support during the most difficult times in my life over the last many years. Yoga has allowed me to connect deeply with people I might have never otherwise shared space with. My teaching is blended with traditional breathing and meditation techniques, contemporary anatomy study and always humour."
Chris is an E-RYT® 200 (Experienced Registered Yoga Teacher) with Yoga Alliance.
Chris Dunphy's Teaching Schedule