Part Time Evenings and Weekends Program • September 2023 - May 2024
200-Hour Yoga Teacher Training
Deepen your practice, and explore the path to teach.
Kushala Yoga invites you to embark on a journey of learning and growth, in our premier 200-Hour Teacher Training Program. For over 11 years, we have supported the development of skilled, compassionate and confident yoga teachers.
Learning to teach yoga is transformational: you are called to listen carefully within, to immerse yourself in new ideas and experiences, to face some of your fears, and to share in the support of a community of peers and teachers. In this program, you will engage in a deep study of the traditional roots, dynamic evolution and practical outcomes of yoga. You will investigate and embody skills to encourage positive change in your life, and the lives of those in your community.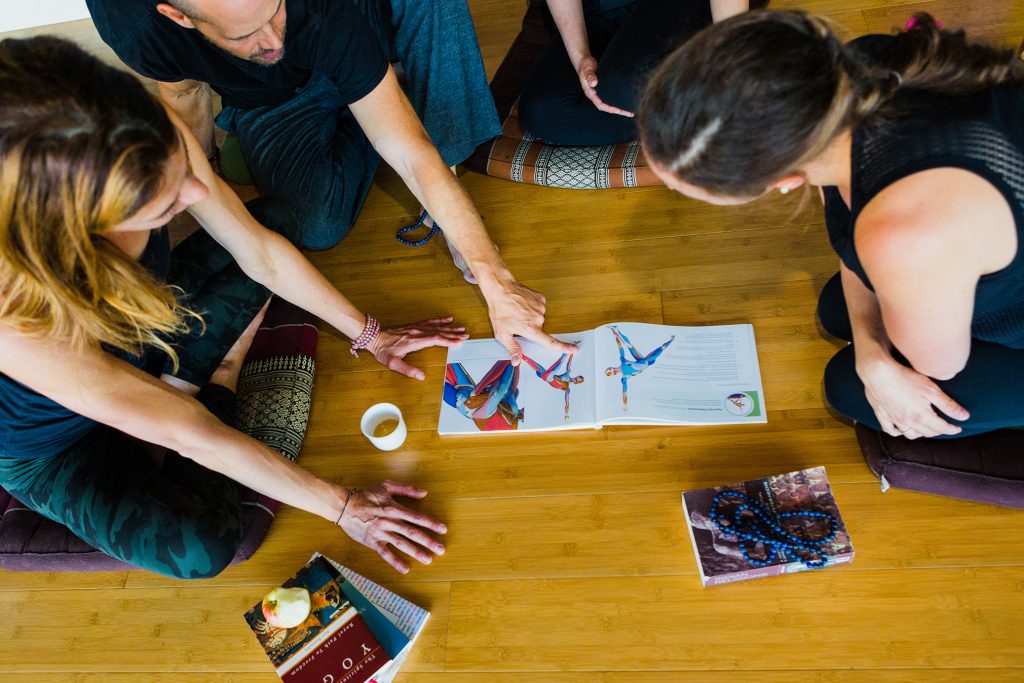 At Kushala, we are a faculty that is committed to the yogic path, and we speak our truth about the beauty and mystery of yoga in modern-day life. We teach from both personal perspectives and time-tested wisdom. We bring in guest teachers to instruct their specializations. We, like you, are on the path, seeking to understand life's big questions, and to share, through yoga, our collective knowledge.
In an urban-retreat setting, you will find the support to take a step back from your routine, to explore your potential, and to be inspired by something fresh and practical. Our studios are calm and friendly environments with no pretenses. We take yoga seriously, but are not afraid to laugh at ourselves. With a light-hearted but respectful approach, we will dialogue and learn.
If you are curious about where this journey could lead you, whether you're interested in teaching or want to explore your practice further, we invite you to take a powerful step to enrich your life and expand your future opportunities. We warmly encourage you to contact us, or come to our next information session.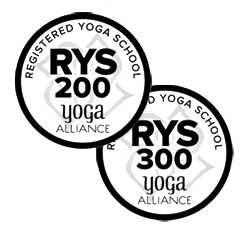 Take a few minutes to fill out our application form. We look forward to discussing the program further with you.
What makes Kushala's program unique?
Class Size. We keep our program small, to develop a close-knit dynamic where everyone can be heard and has the chance to work with the group as a whole. This year to respect physical distancing, we are limiting the program to 16 students.
Program Length and Pace

. Our program spans over 7-8 months. This timeline allows you to pace yourself and your learning, for deeper integration of principles and practices than an immersion program allows.

1 Hour Practicum.

Each student is required to complete a 1-hour, self-designed hatha yoga class. We will mentor you through the practicum period so you feel prepared and confident to teach.

Blended in class and online learning. Choose how you want to take your training: in the studio or online over Zoom. All classes are held live and recorded for future review. A portion of the program (24 hours) will be taught exclusively online, exploring theory topics suitable for this type of learning tool. The remainder of the program is taught in the studio, and concurrently through over Zoom.
Community.

We are a locally-based faculty. Your community of peers in the program is usually local too. The proximity to each other facilitates extra support between classes, and an ongoing connection after the program is complete.

Teaching Opportunities.

We provide Karma teaching opportunities in the Kushala community. We also refer teaching opportunities to our alums.

Experienced Faculty

. Chris Dunphy, E-RYT and Karen Andersen, E-RYT have over 18 years of combined experience teaching yoga teachers, and over 12,000 hours teaching yoga. As a husband-and-wife team, our connection to each other helps us facilitate the program with ease, and support students thoroughly in the program. We also invite other experienced teachers to share their areas of expertise, to bring you the highest quality of learning.

Facilities

. Our studio is located on Saint Johns Street in central Port Moody. We are a minute's walk from the Port Moody Central Skytrain station. 4 hour free parking is available on the street. There are food services nearby, and Rocky Point Park is a 10 minute walk away.

Yoga Pass.

For the duration of the program, you receive yoga pass for unlimited online classes and 2 studio classes / week at Kushala Yoga.

Workshops and Yoga Prop / Clothing Discounts. YTT students receive 20% off workshops and 15% off retail purchases from the time their tuition is paid in full, until the program ends.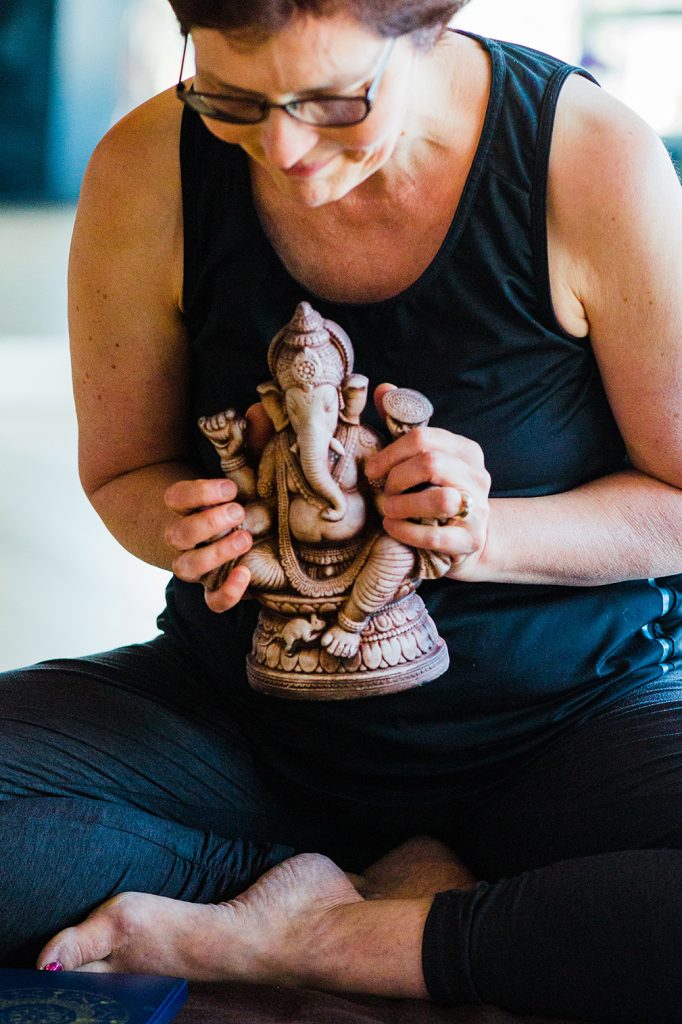 "Chris and Karen, a husband and wife team, sincerely and authentically cared about all the students in our group. Our sharing circle facilitated and fostered an openness amongst our group that was encouraging, healing, comedic at times and real. I was initially concerned about my teaching abilities, but through the support of Chris, Karen and all the beautiful ladies in my group, that I grew to know and love, I was able to achieve a long held dream."
- Brenda F, YTT Grad 2019
Curriculum and Focus Subjects
In our program, you will progressively learn the theory and practices of yoga. In each class, we blend areas of study and practice, carefully expand on focus subjects, and allow time for review and integration. Through the program, there are a few homework assignments, practical exercises, and readings.  Here is a brief description of some of the focus subjects we will cover: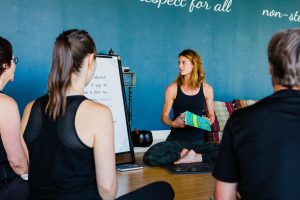 Focus Subject: Yoga History and Philosophy
Explore the traditional roots of yoga through practice, discussion, multimedia presentations, journaling, and readings. Investigate the universal and personal meaning of yoga, its origins, and evolution. Learn the foundations of traditional yoga theory and esoteric practices.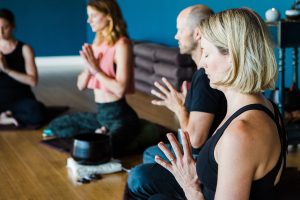 Focus Subject: Expand Your Practice
Each day of teacher training, you will be lead through expanded practices of asana, meditation, pranayama, mantra and other yogic practices, to help integrate and reify the teachings, taught by one or more of your faculty. This is your time to focus inwardly, to explore the subtler practices, to receive detailed instruction and refinements, to ask questions, and gain greater insight into the traditional and contemporary practices of yoga.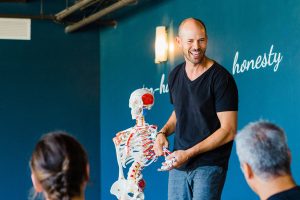 Focus Subject: Yoga Anatomy and Physiology
Study the fundamentals of anatomy and physiology in the context of yoga postures (asana) and breathing exercises (pranayama). Through informative mulit-media presentations, hands-on clinics and discussion, you will gain insight into the powerful effects of yoga on the body and mind. While often studied in isolation, in our curriculum, you will see how the body's systems integrate with one another; making the complex human form self-healing (and amazing!).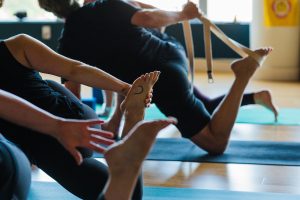 Focus Subject: Methodology of Teaching Yoga
Study the fundamentals of being an effective and inspiring yoga teacher. Discover your teaching voice through cumulative exercises and mentorship. Learn how to approach the challenge of teaching multi-level yoga classes, and students with unique needs (e.g. injury, pregnancy). Uncover the secrets of class choreography, and how to creatively design around what inspires you. Through diverse teaching exercises, learn to "see" your students, and offer individual attention while holding space for the group.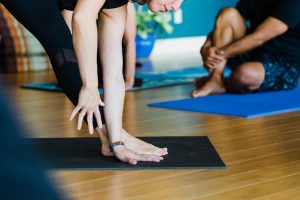 Focus Subject: Asana Clinics
A substantial part of the program is dedicated to learning how to teach specific yoga techniques; in particular, a set of 28 fundamental yoga postures. In learning to guide others into postures, your perspective will shift from being a student to being a teacher. We will thoroughly examine the alignment principles, benefits, risks, variations, use of props, and sequencing theory for each posture.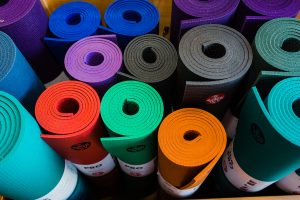 Focus Subject: The Business of Yoga
The landscape of yoga is changing… so what happens after teacher training ends? Learn how to become established as a yoga teacher. We will discuss trends in contemporary yoga, what to expect in the evolving field of yoga, what is required in terms of insurance, marketing, your own practice and self-care, as well as postgraduate learning opportunities.
Focus Subject: Practicum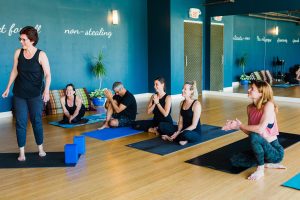 Your practicum is the culmination of your teacher training journey. With the support of faculty and your peers, you will design a 1-hour practicum class over the last two months of the program. There will be iterations of review and suggestions, as well as opportunities to teach portions of your class and receive feedback. During the last two months of the program, you will teach your practicum to your fellow YTTs at the studio. Don't worry, you'll be ready, it's exhilarating and a huge leap in learning!
Faculty
Karen Andersen, E-RYT
Co-Director of Teacher Training, and Co-Owner of Kushala Yoga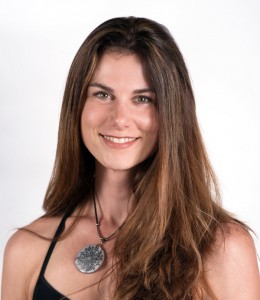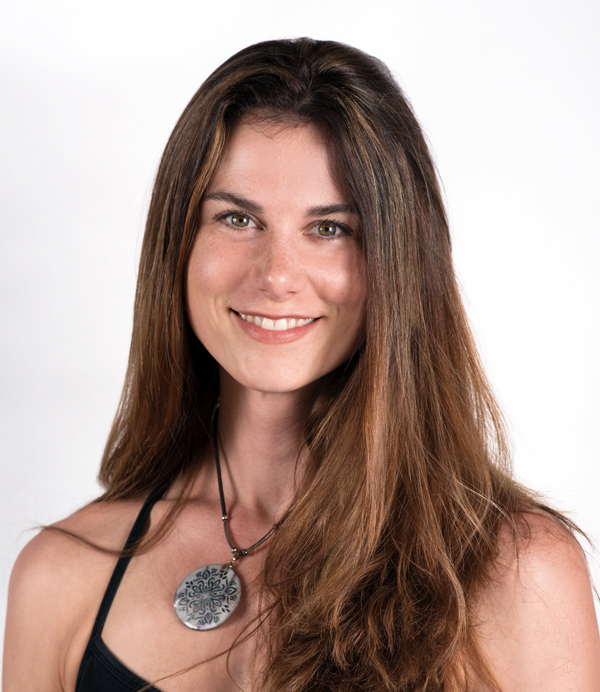 Karen is a yogi, teacher, mother, wife, web developer, gardener and culinary aficionado. During her frenetic life as a 20-something-year-old with an Internet start-up, she turned to yoga to help balance her anxious and ruminating mind. It was a rocky start to the relationship, trying hot yoga, acrobatic yoga, gentle hatha, but nothing seemed to compliment her life at the time. She gave it a rest for a while, instead trying Buddhist meditation to deal "directly" with her mind. 
Eventually she tried yoga again. With a background in ballet from her youth, she found that a flow-based movement practice fed the energetic needs of her body. She also noticed the movement practice helped shift her mental perspective, and allowed more clarity of thought and calm.
In 2009, in a whirlwind of transformation, she left her full-time career in the technology sector, took her 200-hour Teacher Training, and became co-owner of Kushala Yoga with Chris Dunphy. Over the past decade she has studied with, and owes inspiration to, teachers including Michael Stone and Clara Roberts-Oss. She is an autodidact of eastern philosophy and yoga history. She and Chris hold together a bustling home with three children and a vegetable garden; both are continual grounds for practice. She still makes websites.
Teaching people to teach is a passion, and she looks forward to the 6-month training program each year; to connect, learn and grow with others of a similar intention. In our program, she teaches meditation, yoga philosophy, the subtle body, asana, pranayama, and teaching methodology.
"When I first started teaching yoga, I felt that I had to be really knowledgeable about it, and teach what I knew. I was very hungry for 'knowledge', and keenly aware of all I didn't know, what I lacked. As a decade has gone by, I realize that my teaching actually comes from knowing myself better, more intimately. And that's where the practice leads to naturally, if you give it enough time. And that means that yoga practice needs to find a way into all aspects of life. That's what I try to share now."
Chris Dunphy, E-RYT
Co-Director of Teacher Training, and Co-Owner of Kushala Yoga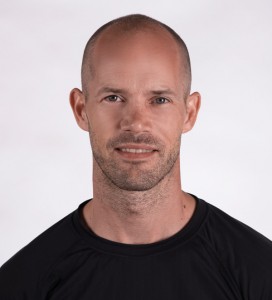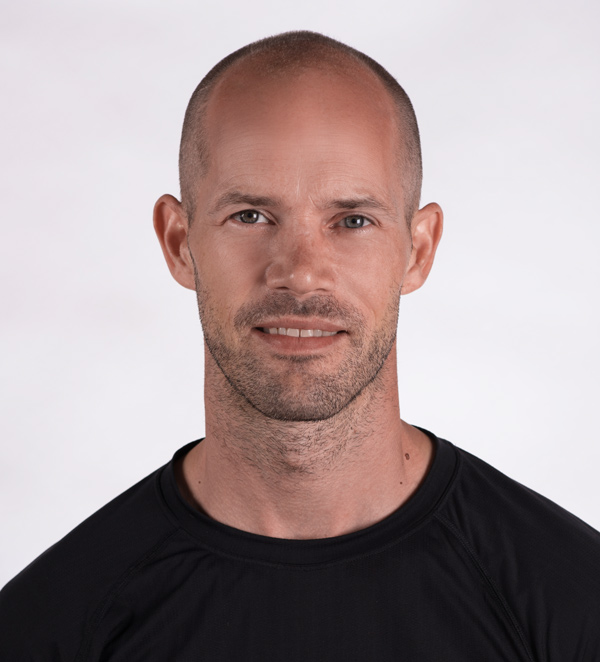 Chris is a yogi, father, husband, student, hockey player, gardener and outdoor enthusiast. Chris spent his younger years either on the ice, the field or on the track. The high point of his athletic career was a gold medal at the Canadian junior championships in the decathlon, a gruelling 10 event discipline that spans over 2 days. After Chris retired from competitive athletics he started work in the finance industry. After 8 years at a desk Chris began to experience both physical and mental discomfort. His body was suffering from injuries sustained throughout his athletic career, and his mind was not at ease in a job he didn't truly feel inspired to do. This is when Chris was introduced to yoga by a colleague.
The opportunity to open Kushala Yoga (formerly Newport Yoga) came in 2006. In that same year Chris quit his job in finance to devote his energy towards Kushala. In 2009 Karen became a partner in the studio and shortly thereafter in life. They have 3 amazing children, Isla, Leigh and Trace, whom you'll often see at the studio. 
Chris enjoys learning and discovering new things, and yoga offers rich grounds for that. His teaching is influenced by his studies with master teachers, but more so through his self study and unending conversations on the subject with his better half, Karen. 
In our program, he teaches anatomy and physiology, asana, pranayama, the business of yoga, and teaching methodology.     
"Yoga practices have ignited a passion and curiosity about my life's path; that light has never dimmed. They have offered a continued support during the most difficult times in my life over the last many years. Yoga has allowed me to connect deeply with people I might have never otherwise shared space with. My teaching is blended with traditional breathing and meditation techniques, contemporary anatomy study and always humour."
Schedule
Students are required to attend (in person or over Zoom) the following classes in the schedule below. If you must miss a day for extenuating circumstances, class will be recorded. Contact us with any questions you have about attendance.
Tuesday Evenings
In person at the studio, or over Zoom
Weekly on Tuesday evenings from 5:45pm – 8:45pm, starting September 23rd, 2023.
No classes on December 26th, January 2nd or March 19th.
Saturday Afternoons
In person at the studio, or over Zoom
From 12:30pm to 5:30pm on
Saturday, September 23, 2023
Saturday, October 14, 2023
Saturday, October 28, 2023
Saturday, November 18, 2023
Saturday, December 2, 2023
Saturday, December 9, 2023
Saturday, January 13, 2024
Saturday, January 27, 2024
Saturday, February 10, 2024
Saturday, February 24, 2024
Saturday, March 9, 2024
Saturday, April 6, 2024
Saturday, April 20, 2024
Saturday, May 4, 2024
Saturday, May 25, 2024
Monday Evenings
Over Zoom
From 6pm – 8pm
These Monday evenings will be taught over Zoom for theory topics.
Monday, October 16, 2023
Monday, November 6, 2023
Monday, November 20, 2023
Monday, January 15, 2024
Monday, February 12, 2024
Self-Guided Practice
To integrate the skills you are learning and further deepen your practice, we encourage you to attend 20-30 regular yoga classes throughout the teacher training period. Full tuition includes a pass for unlimited online classes and two studio classes / week at Kushala Yoga, which begins on the first day of the program and expires on the last day of the program. Classes can also be taken at other studios, community centres, or within your home practice.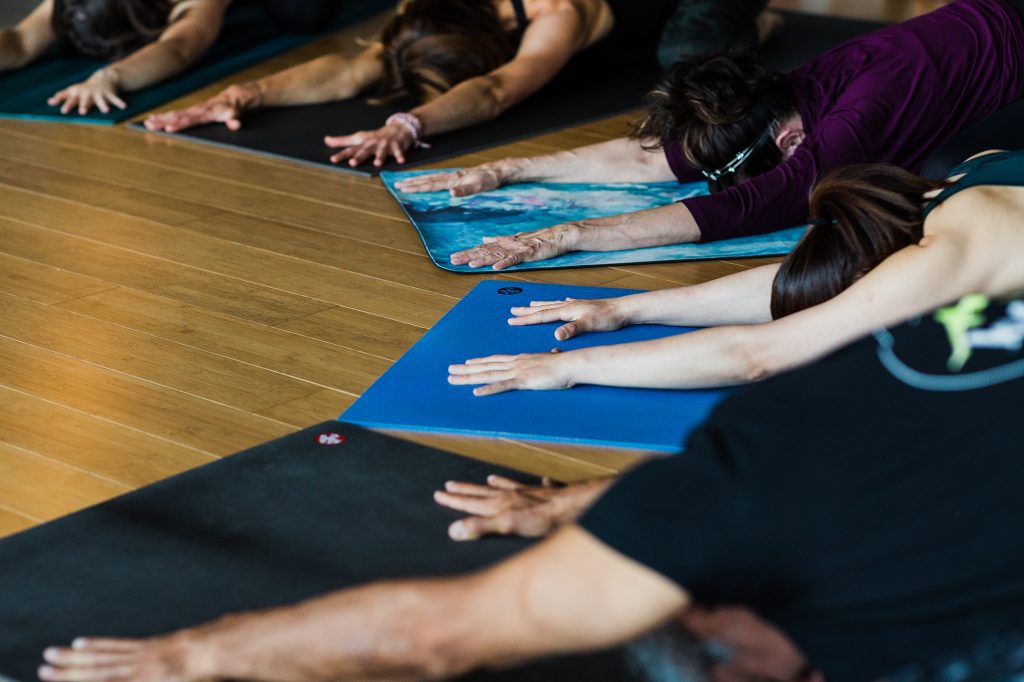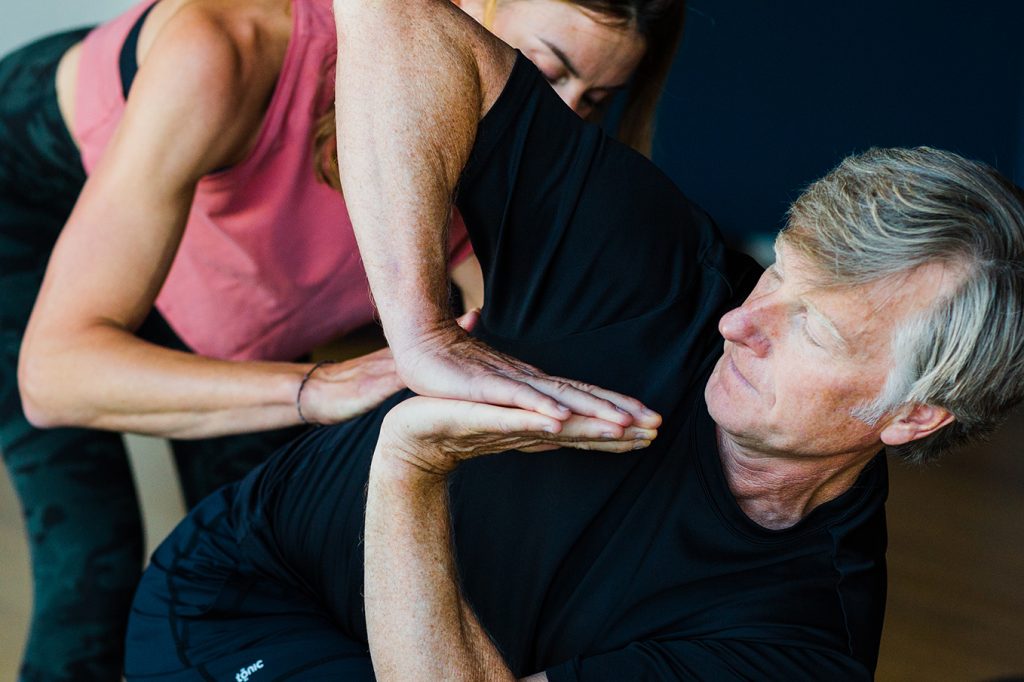 Program Materials and Resources
Included in tuition, we will supply a Teacher Training Resource Binder with handouts for reference in our clinics. There are also 2-3 core books which will be part of the required reading during the program. You will also receive a login to our "Student Space" resource website, where you can access class recordings, homework assignments, and other resources of interest.
From the day your tuition is paid in full, up to the end of the program, you will also receive 15% off yoga props in our retail store (if you want to treat yourself to a new mat, or props for home practice).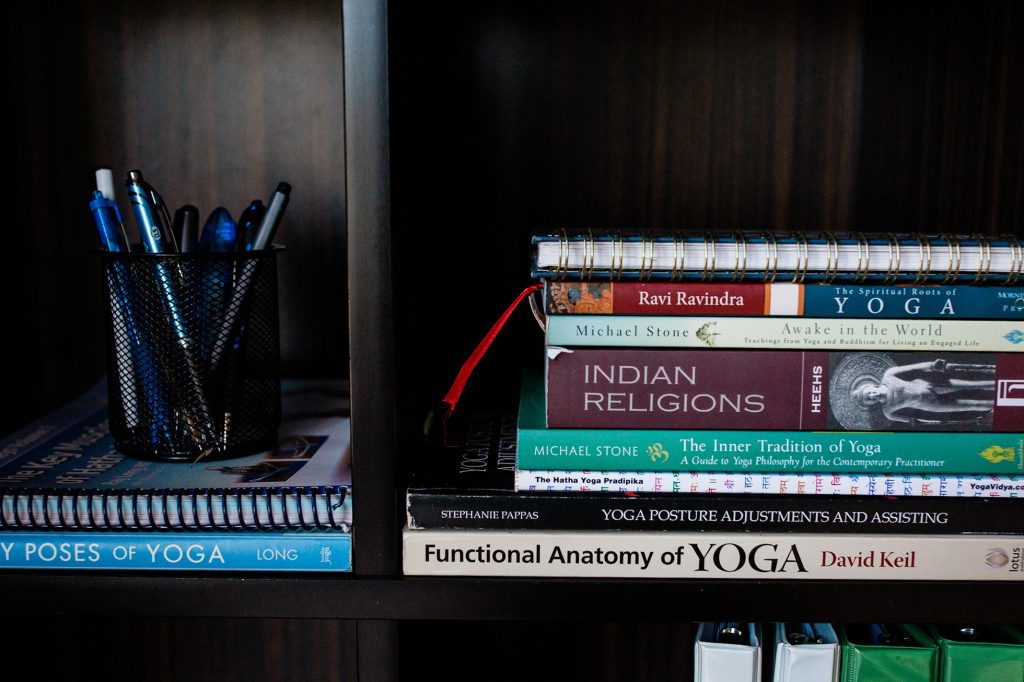 Tuition
The following are tuition costs for our 2023 / 2024 YTT Program.
Early Bird Rate (paid in full by Sept 9th, 2023)
$3450 + tax
Regular Rate (after Sept 9th, 2023)
$3700 + tax
Payment Plan
$1300 + GST by September 16th; and 4 monthly subsequent payments of $650 + GST in Oct, Nov, Dec, Jan 16th
Non-refundable deposit due upon registration,
which will be credited towards tuition.
$250
Tuition includes instruction, program binder, textbooks, online student resources, 20% discount on workshops at Kushala through the program duration, and a 15% discount in our retail store. Optional readings are not included in tuition.
"I will not say that the YTT was easy, because it wasn't, but I felt completely supported every step of the way, and grateful that the hard work yielded life changing results well beyond my expectations. I came out of the YTT with a much deeper appreciation of this amazing path and its philosophy, a new understanding of anatomy and asana providing me with more confidence and strength to practice deeply and safely, and a heartfelt passion and enthusiasm to share this wonderful practice."
- Angela Prider, YTT Grad 2019
Is teacher training right for me?
Although we can't answer this question for you, the following questions may help guide you toward a decision. Can you answer "yes" to many of the following:
Can you commit to the full program schedule and have 2-3 hours / week  to devote to study and practice?

Are you excited by uncertainty (on a good day)?

Are you curious about the subtle, lesser-known aspects of yoga?

Do you understand English well? Do you speak and write in English too?

Are you keen to diversify your career path?

Are you comfortable and motivated to practice on your own?

Do you feel excited when the topic of yoga comes up at dinner parties?

Are you willing to take a compassionate and constructive look at your habits, with a sense of excitement about change?

Are you willing to take time for yourself?

Do you have someone to walk your dog, pick-up your kids, and water your garden, when you're gone for long days?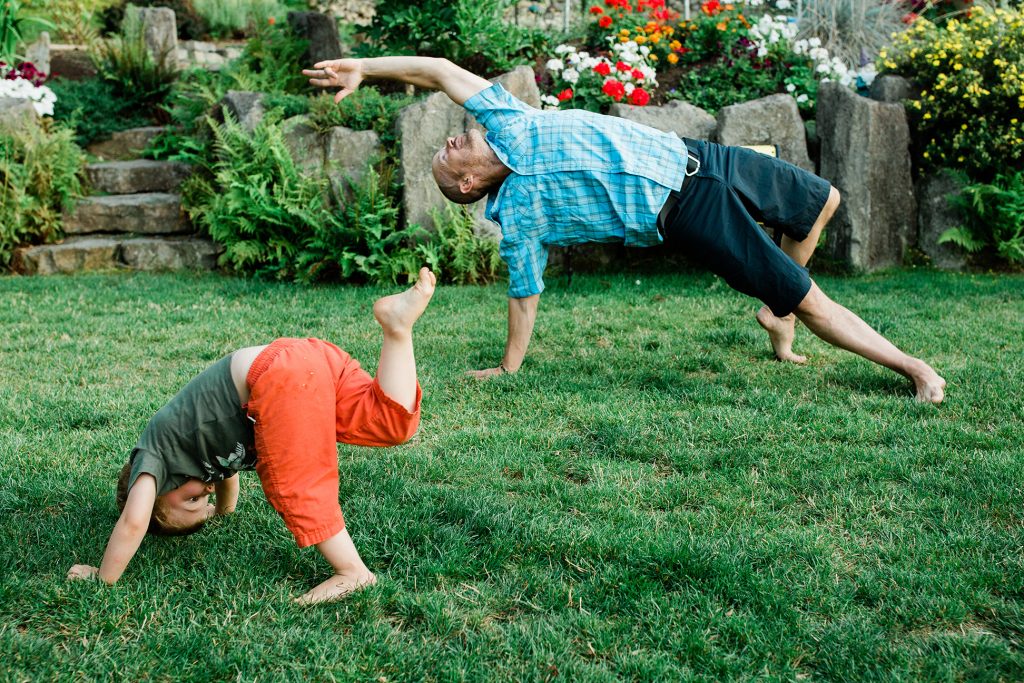 What do I receive when I graduate?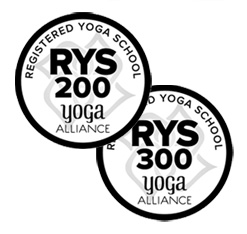 Graduates receive a certificate of completion of Kushala Yoga's 200-Hour Teacher Training Program. Kushala Yoga is a Registered Yoga School (RYS®) with Yoga Alliance, at the 200-Hour and 300-Hour levels. As a graduate of Kushala Yoga's 200-Hour program, you are eligible to register as a Registered Yoga Teacher (RYT®) with Yoga Alliance, whereby you can use the designation My Name, RYT. 
Following your teacher training, if you plan to teach, you need to purchase insurance coverage. Insurance providers will request a copy of your certificate to ensure your training meets known standards (in this case, Yoga Alliance).
Yoga Alliance® is the national education and support organization for yoga in the United States. Kushala Yoga is registered as at the RYS 200 level (Registered Yoga School at the 200-hour level) .
Will I get a job as a yoga teacher?
Although there are no guarantees, a high percentage of program graduates do continue to teach yoga after graduation. Our graduates have been successful in finding ongoing work with municipal recreation programs, yoga studios, private recreation facilities, school boards, corporate programs, private clients, community groups, Yoga Outreach, and other self-directed initiatives like retreats and group classes. It has been our experience that those graduates who persevere in following their goals will find opportunities to teach.