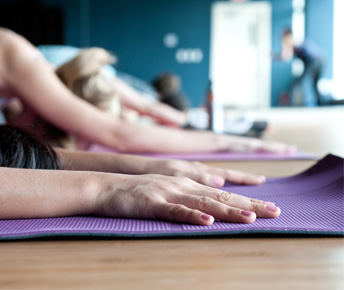 Are you new to yoga, but are you unsure of where to start and what to expect? We have all been there! And we are here to guide you towards an informed decision of how yoga can best fit into your schedule, meet your individual needs, and improve your quality of life. Our studios offer many classes suitable for beginners, because we have many many newbies like you starting every day. So don't be shy, our studios are welcoming, our instructors and staff are friendly, and our classes are diverse: there is a style yoga that is right for you.
How to Choose the Right Class
Choosing the right yoga class depends on your individual needs. Here you'll find a description of our recommended yoga classes for beginners.
Do you have questions about what to bring and when to show up for your first yoga class? Read our FAQs.
---
Yoga for Beginners – Learn the Basics of Yoga
This course will teach you the basic yoga poses and breathing techniques. You will gain an understanding of postural alignment, overall benefits and modifications; to allow you to practice them with confidence.
Recommended for:
all beginners
those who would like to tune-up their practice
Read more about Yoga for Beginners
---
Therapeutic Yoga
This class will include an all-levels warm-up sequence, will focus on the breath, encourage a slow pace, as well as gentle movements and stretches in order to remove imbalances and bring back intelligence to the muscles, postural awareness and physical body
Recommended for:
People with chronic pain conditions once their doctor has recommended gentle yoga.
People unable to participate in general all-levels Hatha yoga classes
Read more about Therapeutic Yoga
---
Candlelight Yoga
Candlelight Yoga is a gentle form of Hatha yoga practiced in candlelight, to help you unwind from your day and bring balance to your busy life. You will enjoy a series of poses aimed to open the body and mind to a greater state of ease and calm. All levels are welcome.
Recommended for:
People who seek a slow-moving and meditative class, but enjoy a degree of physical challenge to get there.
People with busy minds who need a reprieve from the demands of their typical day (that means you!)
Read more about Candlelight Yoga
---
All-Levels Yoga
In All Levels Yoga you will be lead through a well-rounded practice of yoga postures, breathing exercises and relaxation techniques. Based in the tradition of Hatha Yoga, this class combines elements of the time-tested practice with contemporary awareness of physiology and integrative health.
A special focus will be placed on aligning your body optimally in yoga postures (placement, rotation and engagement) to provide a foundation for good overall health. Props such as blocks, straps and bolsters are often used to enhance the postures and provide more comfort in your body. Our experienced instructors will teach postural variations to suit all levels.
Recommended for:
individuals looking for a well-rounded class combining strength, flexibility, balance, and mental centering
individuals who are at minimum in moderate physical condition
Read more about All-Levels Yoga
---
Deep Stretch Yin Yoga
In this class you will engage in long held passive postures designed to target the joints, bones and connective tissue. By keeping your muscles soft, you are able to release deep layers of connective tissue, greatly increasing your range of motion, and creating more ease in any style of yoga, and your life in general.
Recommended for:
individuals with at least moderate mobility, who wish to deepen their range of motion
individuals in need of myofascial release caused by day-to-day activity or specific injury
Read more about Yin Yoga
---
Relax and Restore Yoga
Restorative Yoga is the most gentle healing form of Hatha yoga that is practiced with props, in reclined positions, to provide a supportive environment for total relaxation.
Recommended for:
individuals who need a time and space to stop, breathe and relax in a supportive environment
individuals with chronic pain
individuals suffering from stress-related illness
Read more about Restorative Yoga