Come experience an evening of healing in a soundscape of instrumentals, a deep gong bath and sound meditation with Chase Trellert.
Registration Details
Friday June 8th, 2018
8pm – 9:30pm
$25 + tax
About Chase Trellert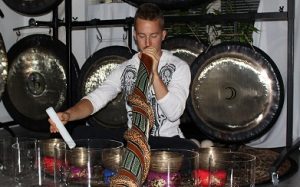 Chase Trellert from Medicine of Sound uses gongs, crystal bowls, the didgeridoo and chimes to guide people through their internal landscapes. Most participants experience profound sensations during his workshops and leave feeling lighter and clearer afterwards.
Workshops give you the opportunity to study, practice and refine a specific aspect of Yoga, with direct instruction from an experienced teacher. Kushala offers regular workshops from visiting and regular instructors on topics including yoga postures, breathing and meditation, lifestyle, ethics and philosophy.

Workshops are an excellent way to compliment and inspire your regular practice, and bring new skills and insights onto your yoga mat, and into your daily life.

Other Upcoming Yoga Workshops

27May

Join Shannon on a guided hike and outdoor yoga class at Buntzen Lake. Enjoy the surrounding beauty of nature as we hike around the lake loop, spend time in meditation, and finish with a grounding outdoor yoga class.

9Jun

Although parenting is a rewarding and nourishing experience it can also at times be stressful and emotionally challenging. This workshop will introduce parents to mindfulness based parenting and how to introduce mindfulness into the home.

22Jun

As we celebrate the longest day of the year we shift into manifestation mode. All of the seeds that have been planted in the winter and nourished in the spring really begin to reach for the light and blossom! Let us join together and celebrate this return to light!