Reveal Your Self Mini-Retreat with Alissa Martin
January 30, 2018

Gong Bath with Chase Trellert
February 2, 2018
Kundalini and Pranayama – Detoxify the Body, Mind and Heart with Shae Savage
4-Week Series
Spring renewal full body detoxification: balance your emotions, hormones while increasing energy and vitality.
Dive into this transformational practice of Kundalini to learn about your purpose. This progressive 4 week series couples the glandular rebalancing and cleansing power of Kundalini Yoga with the nervous system recalibration of Classical Pranayama.
What you'll learn:
Effective breathing (mobilization of the diaphragm)
Reset your glandular (hormonal) systems
Gain hands on experience of your highest potential / purpose
Learn about your patterns and habits that are keeping you stuck in life
Improve your thinking skills
Improve your communication skills
Improve your the quality of engagement in your relationships
Registration Info
April 14th, 21st, 28th and May 12th, 2018
2:30pm – 4:30pm
$108 + tax
About Shae Savage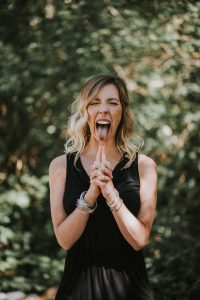 Shae Savage, Kinesiologist
Creative Movement Therapist
Shae carries a Bachelors of Kinesiology and is an Experienced Registered Yoga Teacher, E-RYT-200,with over 500 additional hours of continuing education and training.
She uses techniques from earth medicine practices, somatic healing and rewilding principles for an awakening into the divine.
Shae specializes her teachings in the transformation Yoga of Kundalini: An awakening practice that strengthen the body, regulates emotions, controls the mind and enlivens you.
Additionally, she teaches an empowering Prenatal Yoga series as well as Yin Yoga: a deeply integrative practice for the structural components of the body, couples with aromatherapy and therapeutic adjustments.
In her teachings she creates a fusion between her rehabilitation experience with yogic postures and philosophy to empower, and support you on your journey. Through conscious movements you are able to create a deeper connection to the medicine within you.
Shae offers integrated retreated, workshops, yoga classes, private movement therapy and education for students and practitioners.
What I do:
I guide you on an explorative journey through the layers and identities that you've cultivated that define "who you are". We travel into the subconscious realms through movement and breath, healing the perpetuating habits and behaviours that leave you stagnant and unfulfilled in your life. This process unravels the untruths that have pulled you away from your natural blueprint of lightness on your path to liberation.
You gain tangible tools to navigate and use the personal medicine deep within you to awaken yourself to your highest potential.