Kundalini and Pranayama – Detoxify the Body, Mind and Heart with Shae Savage
January 31, 2018

Trance Dance with Chase Trellert
February 3, 2018
Come experience an evening of healing in a soundscape of instrumentals, a deep gong bath and sound meditation with Chase Trellert.
Registration Details
Friday March 16th, 2018
8pm – 9:30pm
$25 + tax
About Chase Trellert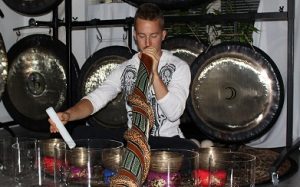 Chase Trellert from Medicine of Sound uses gongs, crystal bowls, the didgeridoo and chimes to guide people through their internal landscapes. Most participants experience profound sensations during his workshops and leave feeling lighter and clearer afterwards.