Gong Bath with Chase Trellert
February 2, 2018

Register for MD Wellness Yoga
February 19, 2018
Journey into a unique blend of body movement, healing sounds, dynamic percussive rhythms, transformational breathing techniques to promote inner awakenings, mental clarity, physical stamina and emotional well-being. Followed by a Gong Bath.
Registration Details
Saturday March 31st, 2018
7pm – 10pm
$45 + tax
About Chase Trellert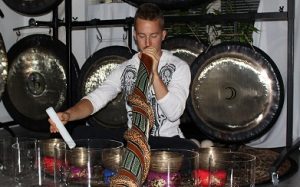 Chase Trellert from Medicine of Sound has completed his training with Trance Dance International and is excited to share this modality of consciousness exploration with his community.