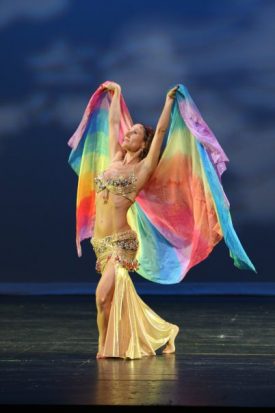 In this all-levels dance workshop, we will unravel the various body isolations associated with belly dancing and explore fusing the various elements together to create something magical and fun. The elegant and playful use of veils as a dance prop will also be introduced.
Learning Areas
Learn various body isolations (ex; the hips, ribcage, hands, arms, and head)
Learn basic travelling steps
Learn how to dance with a veil
Learn how to dance with confidence and pizazz
Have fun exploring a different way to move your body
Registration Info
Friday April 7th, 2017
7pm – 9pm
$29 + GST
Workshops give you the opportunity to study, practice and refine a specific aspect of Yoga, with direct instruction from an experienced teacher. Kushala offers regular workshops from visiting and regular instructors on topics including yoga postures, breathing and meditation, lifestyle, ethics and philosophy.

Workshops are an excellent way to compliment and inspire your regular practice, and bring new skills and insights onto your yoga mat, and into your daily life.

Other Upcoming Yoga Workshops

15Apr

Discover the exhilaration of getting upside down and learning how to balance on your hands!

23Apr

Journey through deep, calming, yin yoga postures, featured with live Harmonium music, while receiving hands-off energy healing to clear stagnant energy, release blocks and align your energetic field.