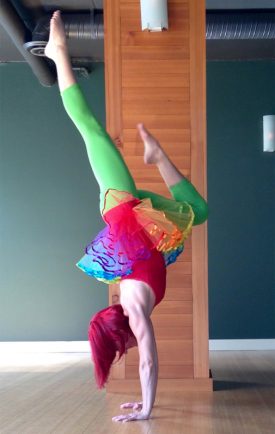 In this intermediate level workshop we will learn how to develop the upper body strength, core strength and flexibility required to balance on our hands as well as the techniques necessary to balance safely and effectively.
Learning Areas
Learn how to build more strength in the shoulders, hands and arms
Learn how to strengthen and engage your core muscles effectively
Learn various ways to enter a handstand
Learn how to safely balance on your hands
Learn how to fall
Registration Info
Saturday April 15th, 2017
1pm – 3pm
$29 + GST
Workshops give you the opportunity to study, practice and refine a specific aspect of Yoga, with direct instruction from an experienced teacher. Kushala offers regular workshops from visiting and regular instructors on topics including yoga postures, breathing and meditation, lifestyle, ethics and philosophy.

Workshops are an excellent way to compliment and inspire your regular practice, and bring new skills and insights onto your yoga mat, and into your daily life.

Other Upcoming Yoga Workshops

28May

Come explore sound meditation and kirtan as a means of self care. The combination of sound, music and positive social connections is a true and powerful tonic for the soul!

4Jun

This month's hike and yoga is to Jug Island Beach in Belcarra Park. Give yourself the gift of connection - to nature, others and yourself. Join Shannon on a guided hike and outdoor yoga class every month at one of our local parks.

10Jun

Join us for a physical, mental and emotional experience to give yourself time to reset in this 5-hour mini-retreat.