Alignment Workshops with Heather
November 24, 2009
30 Day Challenge Wrap Up Potluck
December 5, 2009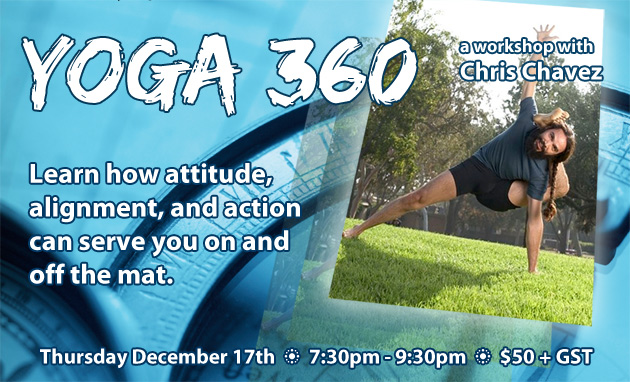 Join certified Anusara® instructor Chris Chavez for this all-encompassing workshop and practice. Using the 3 A's of Anusara®, Chris will inspire you to new levels of being both on and off the mat.
the details
Thursday December 17th
7:30pm – 9:30pm
$50 + GST
Or call 604.461.9642 to reserve your spot!
About Chris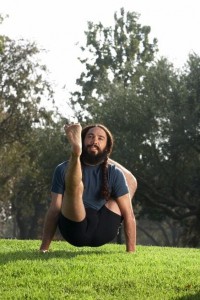 Chris Chavez, Certified Anusara Yoga Instructor, Yoga Alliance – E-RYT 500 & RYT 500, Lululemon Ambassador.
Certified Anusara Instructor, Chris Chavez, first began the practice of yoga in Ireland, where he was touring as a professional musician in the mid 1990's. While traversing the globe several times playing music and studying various methods of yoga, Chris imparted the knowledge and the gift of yoga upon everyone he met.
In 2001, Chris landed in Los Angeles, California, where he submerged himself into the practice and study of Anusara yoga as he began to teach and build community. Certified as an Anusara Instructor in 2006, Chris is amongst a very small and unique group of yoga instructors world wide that are renowned for their extensive studies, vast working knowledge of the mind and body, and great personable demeanors. Named as one of LA's top 10 yoga teachers, and his classes listed as one of the top 3 classes in LA, Chris is one of the most down to earth yoga teachers you will ever meet. His classes are fun, challenging, and spiritually uplifting.
Chris has found the power of practicing and teaching yoga to be an integral part of being a great artist as he continues to maintain a healthy music career and a rockin' yoga practice!