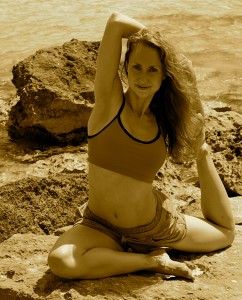 Alissa's first yoga class was about seven years ago at the ladies gym where she was working, in a wide open floor space, in the middle of the weight machines and cardio equipment. She had been practicing yoga on her own, from magazines mostly, and saw it as a way to stay flexible while the weights kept her strong. Throughout the class, the teacher talked of life and practice and her own experiences. At the end of the class, she had the class Om (Aum) many times. This was all very new (and a little strange) to Alissa at the time. As she deepened her practice and after a car accident changed her practice she fell in love with yoga on a new, more holistic, level. Yoga was what really worked in healing the injuries acquired and helping her find a sense of calm when needed. After subbing a yoga class, she fell in love with sharing yoga and, after wrestling her fear of being at the front of the class, she signed up for a teacher training. In addition to that first 200 hour training, she has added a 100 hour Power Vinyasa, Prenatal, Kids Yoga, Seniors Yoga, Tibetan Heart Yoga and 650 hours of Phoenix Rising Yoga Therapy Certification.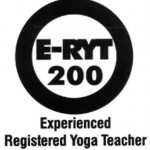 Yoga keeps Alissa coming back after all these years for the surprises that come with each practice and the courage that it gives her to step out of her comfort zone both as a student and as a teacher. She loves to share the many facets of the yoga practice from physical to spiritual. The mental challenge, the emotional flux, the sweat, fun, laughter, connection and introspection inspire her and show up in her classes. At times, so does Lion's Pose :P
Alissa is grateful for the community she has found and that continues to grow here.
Alissa is an E-RYT® 200 (Experienced Registered Yoga Teacher) with Yoga Alliance.
Alissa's Website: http://yogacomfortzone.com/
Alissa's Teaching Schedule
Sunday May 19th, 2013
Monday May 20th, 2013
Tuesday May 21st, 2013
Wednesday May 22nd, 2013
Thursday May 23rd, 2013