View Studio Maps in a larger map
Click here to contact us by email or phone.
Kushala Yoga at Suter Brook – Port Moody
#303 – 130 Brew Street
Port Moody, BC V3H 0E3
View class schedule
The heart of yoga in the Tri-Cities, inspired by the natural surrounds of wood, stone and water, our Suter Brook location offers two beautiful studios, two private treatment rooms, a yoga and lifestyle boutique, and a tea lounge.
How to find us: Located in Suter Brook Village at the corner of Ioco Dr. and Murray St. In the office building (the big glass building on the corner), on the 3rd floor above the BC Liquor Store.
Free parking is available on the street or in the underground parkade. Enter the parkade from Morrissey Road, turn left at the bottom of the parkade ramp and drive towards the BC Liquor Store signs. Take the elevator up to the 3rd floor. If you are arriving by foot, enter the building in the large doors to the right of the Liquor Store entrance.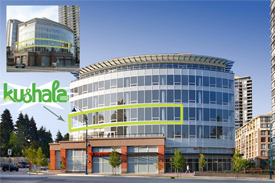 Kushala Yoga on Austin – Coquitlam
#22 – 2662 Austin Ave.
Coquitlam, BC V3K 6C4
View class schedule
Located at Austin and Mariner, our bright, natural light studio overlooks the Fraser Valley and Mount Baker. Practice with the support of cork floors, high ceilings, and natural radiance.
How to find us: Park in the upper parking lot (entrance of Bromley St) , and walk towards the entrance to Original Joes. There is a entrance to the staircase to the left of Original Joes. Go up the stairs and enter onto the 3rd floor. We are the first door to the left.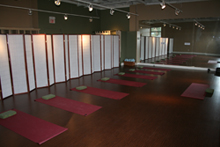 Kushala Yoga in Pitt Meadows
NOW OPEN!
#303 12099 Harris Road (at Ford Road)
Pitt Meadows BC V3Y 0E5
Watch a tour of how to find us!
How to find us: Located on the 3rd floor over the new Public Library, at the intersection of Harris and Ford. Free parking is available on the street or in the parking lot at the rear of the building.