Kids Halloween Yoga (sold out)
October 6, 2009
30 Day Yoga Challenge
October 13, 2009
Now that Fall is here, it's time to enjoy the transition of leaves turning and daylight ebbing. There's no better way to keep yourself centered and dynamic than to maintain a regular yoga practice. It's a great time to try a new class in the studio, or come out for some of our special events this October.
Kids Halloween Yoga
Saturday October 31st, 2pm – 3:30pm
Bring your kids to our first annual Halloween Yoga! Drop them off at the studio while you make final preparations for trick-or-treaters. We are organizing games and activities, with prizes and healthy treats (don't tell the kids they're healthy!) $15 / child, all ages welcome. Call, email or visit the studio to RSVP.
Partner Yoga
Friday October 23rd, 7:45 – 9pm – Build trust, strength and awareness in this fun and frolicsome evening of partner yoga! Bring a friend, partner or just yourself. All levels of experience welcome. $15 / person. Call, email or visit the studio to RSVP.
Schedule Updates
New – Class Spotters!
In several classes you will now find a "spotter" – a second instructor who is there to help you with alignment and provide gentle adjustments to deepen your poses. Classes with spotters are highlighted on the schedule with an "S".
Tuesday Vinyasa w/ Maria
On October 6th Maria returns to the studio to teach our Tuesday night Vinyasa class, 7:45 – 9pm. We welcome her back from a summer with her new baby boy, Christian.
Anusara Infused w/ Andrew
Anusara, means "flowing with Grace," "flowing with Nature", "following your heart." Anusara is quickly becoming one of the most popular styles of yoga practiced in the world. Now at Newport Yoga, experience our Anusara Infused classes with Andrew, who is working towards his Anusara Certification®. The class builds on Hatha postures with unique "heart-opening" alignment and bio-mechanical principles. Suitable for all ages and levels of experience.
Mom and Baby – Tuesdays 12:30 – 1:30pm
. An interactive celebration of the first months of your new relationship. Join other yoga moms to bond with each other and your baby while finding strength, balance, connection, and a sense of calm during your amazing new journey. Register online!
Saturday Sunrise Hatha Flow – 8am – 9am
Begin your weekend right with our Sunrise Hatha Flow, building on Hatha poses with movement, strength building and flexibility.
Hatha Flow Monday / Friday – 4:30 – 5:30
This popular style of yoga class is now on Monday and Friday afternoons. Hatha flow classes are multi-level and focus on the movement between Hatha postures, in correlation with breathing.
This Fall, there's a class on our schedule to suit everyone's yoga practice. View our full schedule.
Yoga Teacher Training Begins November 1st!
Do you feel drawn to deepen your practice, and perhaps teach yoga to others? This November join our part-time Yoga Teacher Training Program. The weekend schedule allows you to pursue your passion for yoga while keeping up your day-to-day routine. Just 3 more weeks to register!
Read the testimonials from our summer teacher training program.
If you have any questions about the program, schedule or curriculum contact Maria Fabiano (maria@kushalayoga.com) for more information.
Loon Lake Retreat – A Memorable Weekend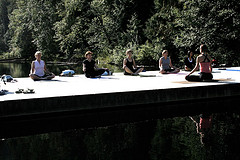 Last weekend we ventured to Loon Lake for a great weekend of yoga, hiking, tasty food, impromptu swims after savasana! Thank you all the participants who came out and we hope you join us next year. For anyone who missed out, check out our photos from the weekend here.
A special thanks to Alissa, Maria, Ian, Chris's mother (eye pillows!), Cobs Breads and Ruben's Chocolates for supporting the retreat and helping to make it a success.
We're looking forward to the next retreat… Tofino Storm Watching & Yoga Retreat this November!
Community and Family Programs
This Fall, Newport Yoga is launching our Community and Family Programs, including yoga in schools, kids yoga and many more programs to extend the benefits of yoga into our community and families. Keep your ears open for special events and new classes. If you are interested in more information in bringing yoga into your community group, Alissa Martin, our Community and Family Program Director is looking forward to speaking with you!
Look Out for the 30 Day Yoga Challenge!
Why wait til New Years to make your resolutions? Set the holiday season off right by taking part in our 30-Day Yoga Challenge, from November 16th to December 15th!
The Challenge: take 23 classes in 30 days.
The Cost: $125 (less than $6 / class)
Thank you everyone for bringing your practice to our studio, and helping to grow a diverse community of yogis. It's always great to see everyone walk through the door, whether your a regular, or coming back for the first time from a long summer break! Keep up the hard work.
Namaste,
Chris & Karen