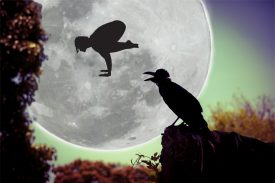 Learn the fundamentals of arm balancing in this workshop, as we work towards crow pose (bakasana).
We will break down the building blocks of arm balances, including how to:
Safely enter, maintain and exit an arm balance pose (focus on joint health)
Shift your centre of gravity to minimize muscular exertion
Overcome fears through use of props
Recruit the strength, focus and stability required to balance
This workshop is suitable for all-levels. If you are working with injury in your wrists, neck or shoulders are injured, please contact us before registering for this workshop
This is an Advantage Program Workshop: members of this program are eligible to register at no charge, while space remains.
details
Wednesday March 22nd, 2017
6:45pm – 8pm
$25 + tax (free for Advantage Program Members)
Instructors: Chris Dunphy and Karen Andersen
Workshops give you the opportunity to study, practice and refine a specific aspect of Yoga, with direct instruction from an experienced teacher. Kushala offers regular workshops from visiting and regular instructors on topics including yoga postures, breathing and meditation, lifestyle, ethics and philosophy.

Workshops are an excellent way to compliment and inspire your regular practice, and bring new skills and insights onto your yoga mat, and into your daily life.