Restorative Yoga
March 31, 2010
Ladies Night – An Evening of Yoga and Community
April 27, 2010
Spring Renewal Kundalini Workshop with Mira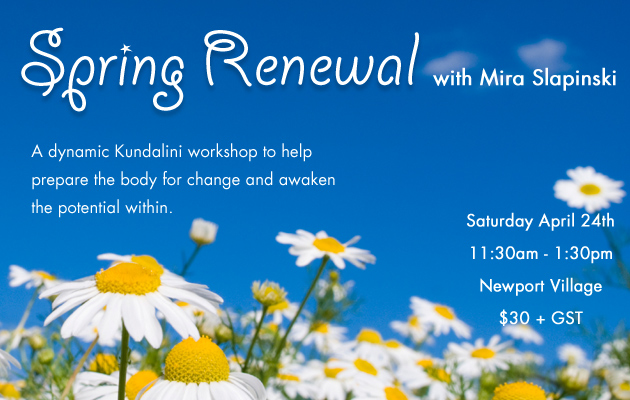 the details
Saturday April 24th
11:30am – 1:30pm
Newport Village
$30 + GST
A Workshop to Revitalize Your Body & Re-energize Your Goals with Mira Slapinski
Following the quiet, deep introspection of Winter comes the new life,hope, growth and abundance of Spring. How are you aligning your body and mind to this natural cycle of birth, renewal, and growth?
Suitable for beginners and experienced practitioners.
This workshop will include:
A dynamic Kundalini workshop to help prepare the body for change and awaken the potential within.
A guided meditation and breathing techniques to connect you with your life purpose.
About Mira
Mira is a certified Level 1 Kundalini Teacher with over 300 hours of professional yoga training. She has trained with or under master teachers as Gurmukh Khalsa, Bernie Clark, Dave Swensen and Chris Chavis. Mira is certified in Ashtanga Yoga, Yin Yoga, Mind and Meditation, and Vitality and Stress and is currently taking the Anusara teacher training program.