Kundalini Yoga with Mira
July 10, 2010
Weekend Yoga Getaway Retreat on Salt Spring
July 31, 2010
Palmist and Wisdom Teacher Singh Modi
We have a few more appointments available on Sunday Nov 28th and Tuesday Nov 30th. Email us if you are interested in seeing Singh!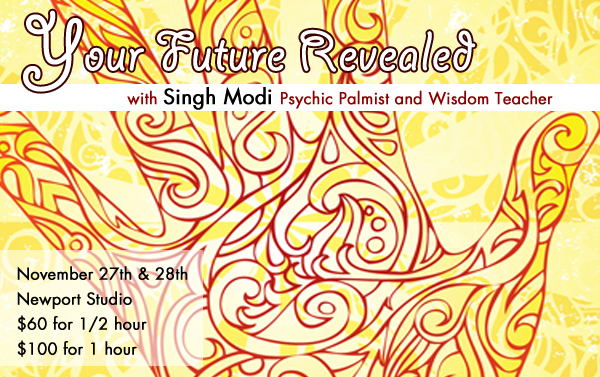 On November 27th, 28th & 30th, have your palm read by Singh Modi a world-renowned palmist psychic, mediation teacher and healer, at Kushala Yoga.
Details
Dates: Saturday November 27th and 28th, 9am – 5pm
Cost: $60 per half hour / $100 for 1 hour (cash preferred).
Location: Newport Village Studio
Cash payments are preferred.
About Singh Modi
Singh Modi was born and raised in Kashmir India, he realized at an early age that his calling was to teach, share wisdom stories and inspire others to discover their gifts. He has lived in New York since 1971 and has read over 45,000 palms. Singh has read the palms of many spiritual leaders, actors, writers and dancers such as: Swami Muktananda, Joni Mitchell, Kareem Abudul Jabbar, Rita Marley and Roberta Flak.