Mindfulness Meditation 5-Week Course
November 30, 2016

An Introduction to Mindful Parenting with Maria Fabiano
December 1, 2016
Come join a dynamic 4-week class series specifically target areas of the body that are tight for men. If you sit for much of the day, have tightness or soreness related to your work or activities (running, cycling, hiking, garden work, sports etc.), have a history of sports injury or are looking to prevent issues, this class will help rebalance your body so you can enjoy greater freedom and mobility.
Learning Goals
• Release overused and tight muscles
• Improve range of motion by focussing on hamstrings, hips, IT bands, shoulders and the back
• Learn proper alignment, how to use props, and variations to adapt the poses for your individual needs
Recommended Experience
This course is suitable of beginners or more experienced men who would like a challenge in a class that is customized for the male body. Modifications and variations will be offered to suit multi-levels.
Registration
Starts Saturday January 7th, 2017
Time : 10:45am – 11:45am
Duration: 4 weeks
Cost: $65 + GST
About Lynette Sauve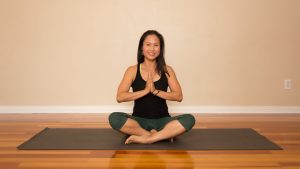 Yoga is a centering force in my life. I teach to provide a space to accommodate my student's reason to be there, whether it's finding time for themselves, or moving through the creaks and cobwebs that can settle in the body. I am thankful to be part of my student's journey. I started teaching men's-only yoga four years ago. Through time and experience, I have learned specifically what is most helpful for the male body, in a yoga class.