For the Bliss of It: Backbending Workshop
June 23, 2011
Food Bank Fill-Up til July 21st
July 4, 2011
Kushala Yoga is Open in Suter Brook Village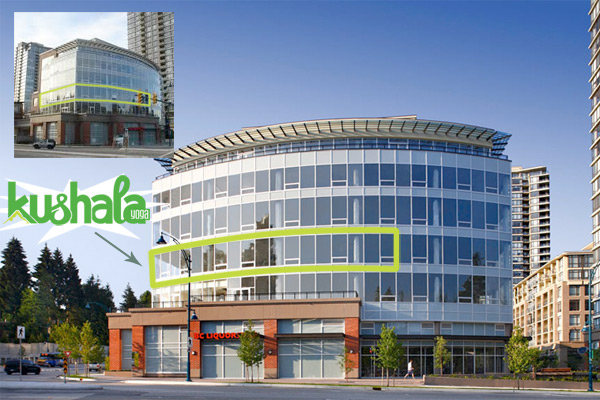 What You Need to Know
Our new Port Moody Studio is now open in Suter Brook Village
Our new location has 2 studios, and 2 private treatment rooms
Check out the new class schedule, enhanced to include concurrent classes at peak times, a greater variety of styles and pre-registered classes
Your membership, pass or punch card is not affected, and will be transfered
There is ample underground parking
We are excited for the expansion, and happy to talk to you about any questions or concerns.
Kushala Yoga at Suter Brook – Port Moody
#303 – 130 Brew Street
Port Moody, BC V3H 0E3
View class schedule
The heart of yoga in the Tri-Cities, inspired by the natural surrounds of wood, stone and water, our Suter Brook location offers two beautiful studios, two private treatment rooms, a yoga and lifestyle boutique, and a tea lounge. Opens Tuesday September 6th, 2011.
How to find us: Located in Suter Brook Village at the corner of Ioco Dr. and Murray St. We are in the office building (the big glass building on the corner), on the 3rd floor. Free parking is available on the street or in the underground parkade. Enter the parkade from Morrissey Road, turn left at the bottom of the parkade ramp and drive towards the BC Liquor Store signs. Take the elevator up to the 3rd floor. If you are arriving by foot, enter the building in the large doors to the right of the Liquor Store entrance.

View Studio Maps in a larger map