Start Your Day Refreshed with Sunrise Yoga
October 25, 2010
30 Day Yoga Challenge Has Begun!
November 1, 2010
The Heart of Your Matter with Christine Price Clark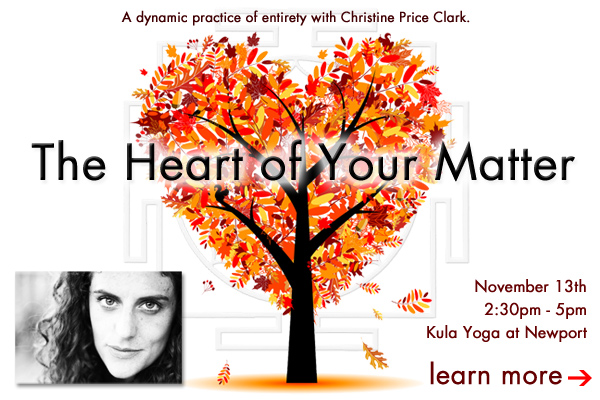 Join Christine for a workshop to radically affirm that you are whole. With a primary focus on our relationship to the heart and essence of your physical and energetic being, rock what you've got! You have all that you need.
details
November 13th
2:30pm – 5pm
Kushala Yoga at Newport
$40 + HST
about Christine
Christine Price Clark is an Anusara-inspired™ Yoga teacher who believes in deep play. She is known as a passionate, accessible teacher who shares artful languaging, creative sequencing and the sacred teachings found in the ancient and the everyday. She was recently named in Vancouver Magazine's Best Of Vancouver 2010, and is the proud mother of Olive, age 20 months.