The Heart of Your Matter with Christine Price Clark
October 26, 2010
Check Your Progress in the Challenge
November 15, 2010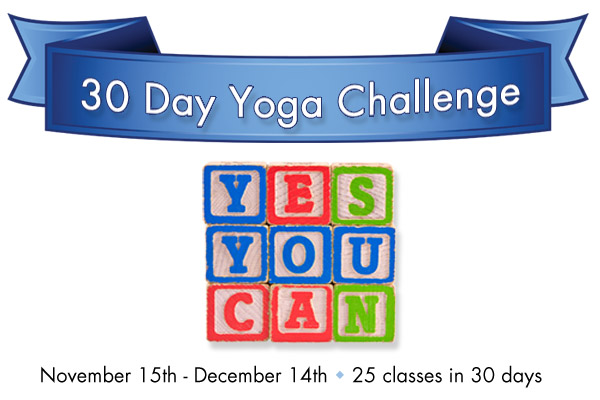 Are you ready to expand your yoga practice? From November 15th – December 14th, sign up for our 30-Day Yoga Challenge. It's your opportunity to transform your body and mind with the community of support from fellow challengers. The goal is not only to take 25 classes in 30 days, but to experiment with the benefits and struggles of a dedicated practice, and to have fun along the way.
Details
Monday November 15th – December 14th
25 classes in 30 days (more if you like, it's an unlimited pass)
$109 + HST*
Check in on your challenge progress ONLINE
*If you're an unlimited member, your challenge is free. For those with Kushala Passes, we'll put your pass on hold for the duration of the challenge.
Join us at the challenge wrap-up party at Brown's Social House in Newport Village on Saturday December 18th at 2pm.
Why Take the Challenge?
Build strength, muscle tone and improve flexibility
Lower stress and anxiety, especially important are the holiday season
Improve your mood and sense of well being
Increase your appreciation your body
Become more mindful of what feeds you (you have what you need to be happy!)
Improve your quality of sleep
Explore your ability to set goals and work towards them
Have fun, sharing the challenge with others
Yes… there will be prizes. Memberships, Kushala Gear, holiday treats. Come to the wrap-up party!
Tips for Your Challenge
Recognize that it won't be easy
Hatha yoga is a physical practice, and your body will recognize and respond to this. Be sure to try new class styles, mix in Restorative and gentle forms of yoga with your favourite usual classes.
Set your schedule in advance
At the beginning on the week, plan the classes you will attend. Write them down to remind yourself and to establish a commitment to your goals.
Tell your friends and family
Get the support from others around you. Maybe ask them to participate with you.
Keep a journal or blog
After each class, jot down a few words about your experience, what came up, how you felt before and after you hit the mat.
Talk to us
Let us know how your challenge is going for you. What is difficult, what is easy?
Try new classes
It's a great chance to expand not only the depth of your practice, but it's breadth too. Keep it fresh by trying classes for the first time.
If you "fall behind" don't stress it
25 classes is only a suggestion. What is more important is that you try your best, in your capacity. Keep coming, set a new goal, work through it.
Sound like something you're interested in? Register today!