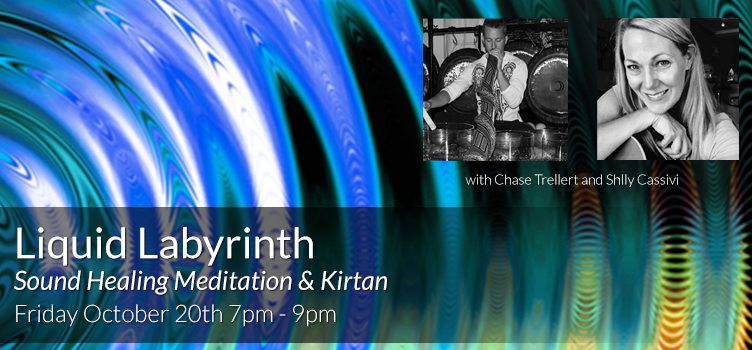 Autumn is the time to descend. Come journey inward as you release all that obscures your soul re-discovering your true being.
Shelly and Chase will weave together a tapestry of sound as they blend the vibrations of crystal singing bowls, gongs, chimes and various other instruments. They will lead you through the liquid labyrinth as you embark upon a deep inner journey of change and transformation that will lead you back to a place of peace and inner light.
From this heart expanded state we will join together in breath and sound sharing one voice as we celebrate community, connection, and the bountiful gifts this year has brought.
Come have the experience of being the single drop and the ocean all at once!
Registration Information
Friday October 20th, 2017
7pm – 9pm
Cost: $35 + tax before October 12th, $45 thereafter
About Shelly Cassivi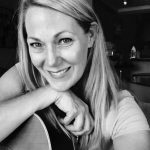 Years before Shelly began the physical practice of yoga She was engaged in the practice of meditation and reiki, so when she was introduced to the teachings of Michael Stone and Sarah Powers it really struck a chord in her. Both of these teachers blend yoga with Buddhist mindfulness philosophy. You will find this mindfulness approach layered into her classes.
Shelly feels fortunate to have the opportunity to share her passion for yoga with the Kushala community. It has been and continues to be a journey of connection, growth, expansion and love; a path that gives meaning to our lives. Shelly is focused on the full experience of yoga and the transformative nature of this simple practice when all of the intricate layers are woven into the equation: physical, mental, emotional & energetic.
In addition to teaching yoga Shelly is a musician with a passion for music. She sometimes leads our community in kirtan (the yoga of devotion, think musical meditation). In class you can expect the best play lists, occasional live instruments, and the best Om the tri-cities has to offer!
About Chase Trellert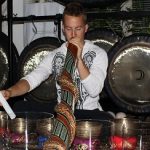 Chase Trellert is the founder of Medicine of Sound. He has traveled the world in search of different healing modalities to share with his friends, family and those in his local community.this journeys have lead him to the Jungles of Peru to train with Shaman, to the Andes of Ecuador to learn ancient yogic practices and to South East Asia to Meditate with monks. He combines many different modalities to weave a unique healing experience for all who attend his sessions. "My Sound Healing Journey began while I was living in Australia, I heard the didgeridoo and was awestruck." Since then he has collected all sorts of instruments, but his main passion has been with the Gong. He is excited to share all that he has learned with anyone and everyone!
Workshops give you the opportunity to study, practice and refine a specific aspect of Yoga, with direct instruction from an experienced teacher. Kushala offers regular workshops from visiting and regular instructors on topics including yoga postures, breathing and meditation, lifestyle, ethics and philosophy.

Workshops are an excellent way to compliment and inspire your regular practice, and bring new skills and insights onto your yoga mat, and into your daily life.

Other Upcoming Yoga Workshops

23Sep

Are you curious to learn more about the roots and relevance of yoga's diverse practices beyond the familiarity of yoga postures? In this workshop, we will examine and discuss the underlying principles and practices that support not just how we "do yoga" on our mats, but also how they can lend clarity of the mind and heart to lead a more grounded, engaged and awakened life.

1Oct

Acro Yoga is a great way to play with movement in a partnership or group setting. In Fold and Fly, we will break down the steps of entering the practice of Acro Yoga for beginners, guide you through the fundamentals of being upright and upside down, and propose new techniques for those playing at an intermediate level.

14Oct

Join us for a physical, mental and emotional experience to give yourself time to reset in this 5-hour mini-retreat.