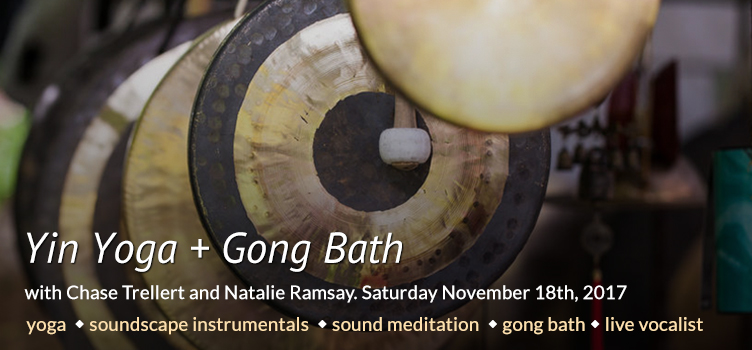 Come experience an evening of healing, beginning with yin yoga in a soundscape of instrumentals, followed by a deep gong bath and sound meditation with Chase, interwoven with Natalie's angelic vocals.
Registration Details
Saturday Nov 18th, 2017
7pm – 10pm
$45 + tax
About Natalie Ramsay
Natalie Ramsay is a dream folk singer and guitarist. Her songs are alluring and melancholic and speak deeply to those who listen. Her music is described as haunting yet healing and can send students deeper into their yoga practice.
About Chase Trellert
Chase Trellert from Medicine of Sound uses gongs, crystal bowls, the didgeridoo and chimes to guide people through their internal landscapes. Most participants experience profound sensations during his workshops and leave feeling lighter and clearer afterwards.
Workshops give you the opportunity to study, practice and refine a specific aspect of Yoga, with direct instruction from an experienced teacher. Kushala offers regular workshops from visiting and regular instructors on topics including yoga postures, breathing and meditation, lifestyle, ethics and philosophy.

Workshops are an excellent way to compliment and inspire your regular practice, and bring new skills and insights onto your yoga mat, and into your daily life.

Other Upcoming Yoga Workshops

5Nov

Join Shelly and Heather in a healing workshop to help melt away stress and tension through Restorative Yoga.

19Nov

Through targeted self­-massage trigger point therapy using high-grip rubber balls, reduce pain and ease tension in your body.