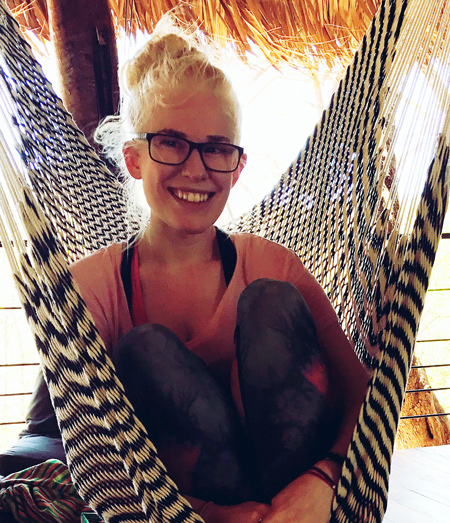 Megan first began exploring her yoga practice ten years ago. She enjoyed how a vigorous practice allowed her to disconnect from the everyday rush of life, and turn her focus inward. In yoga she found discipline, awareness of breath and movement, and the ability to live a more balanced life. As she continued to practice Megan began to notice that she developed more of a calm personality and positive outlook, even in difficult circumstances. She became more understanding of herself and mindful of how she treated herself and others.
For many years Megan practiced with the sole intention of self study. In 2017 Megan took an 500 hour yoga teacher training program through Moksha Yoga & Zen Yoga Nicaragua. Here she learned about functional anatomy, and muscles used within postures. She also learned about the origins of yoga and how to incorporate practice into your everyday life. She was instantly drawn to the importance of anatomy, movement with intention and using engagement with each posture. She fell in love with yoga philosophy and literature because it exposed her to a more spiritual side of her practice.
Megan decided to become an instructor because she wanted to share her passion for a strong yoga practice with others. To give her community the space to disconnect, using the body and breath to focus attention internally. She seeks to offer a challenging and accessible yoga practice with the intention of strengthening the body, stepping outside of comfort zones, and getting a little playful. When she is not teaching, you can typically find Megan on her mat at Kushala, exploring her personal practice.
Apart from yoga Megan maintains a passion for exploring. She spends her time being outdoors, hiking around the Vancouver area or travelling the global to discover new cultures, languages, and traditions.
Megan Henwood's Teaching Schedule