Kids Halloween Yoga Workshop
October 1, 2010
Start Your Day Refreshed with Sunrise Yoga
October 25, 2010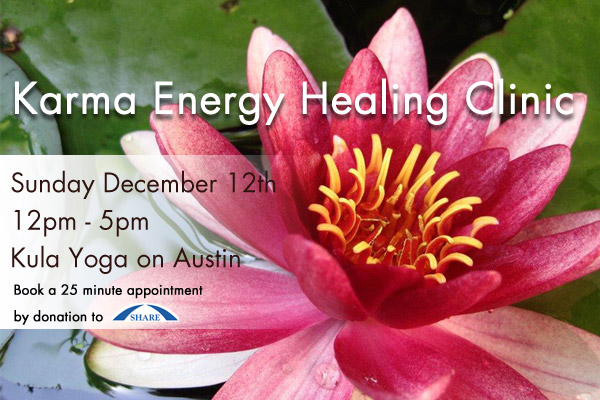 Do you feel negatively impacted by stress and anxiety, seasonal mood changes, chronic pain, or are you recovering from a loss? Do you feel emotionally blocked, or hyper-sensitive to the changing environment around you? Are you curious about energy healing and it's benefits?
Integrative Energy Healing is a growing, vibrant and diverse cross-section of healing modalities that seek to improve your physical, mental, emotional and spiritual sense of self. It combines Eastern and Western science, philoshopy and medicine in a non-invasive approach to heal you from the inside out.
On Sunday December 12th between 12pm – 5pm, come to our Karma Healing Clinic at the Austin studio. Register for a 25-minute one-on-one healing session, by donation, with proceed going to SHARE Community and Family Services.
details
Sunday December 12th
12pm – 5pm
Kushala Yoga on Austin, Coquitlam
25 minute appointments
By donation to SHARE Community and Family Services (bring a cash donation to the studio on the day of the clinic).
To register, please indicate the healer you'd like to see, and your preferable time.
Introducing the Healers
Choose from the following healers.
Christine Brain
Integrative Energy Healing
Christine is Clairvoyant and is a certified Integrative Energy Healer and Yoga Instructor. Committed to a spiritual path the techniques and modalities that she has studied include, but are not limited to, Integrative Energy Healing, Healing Touch, Craniosacral Therapy, Yoga, Guided Meditation, North American Spirituality and Shamanism, which have all contributed to the development of her personal style of healing and have proven to be very effective in helping her clients to reach their personal health goals.
Denise Cambiotti
Touch for Health
"Touch for Health" balancing techniques encompass the assessment and tuning of major postural muscles using gentle muscle monitoring techniques and application of gentle acupressure. Interestingly, these muscles are related to organs and glands. Any improvement of muscle function will also assist their related organs and glands. Emotional Stress Defusion techniques may also be applied, which are simple, easy to learn, and very powerful to experience!
"Touch for Health" sessions assist with the proper flow of energy within the body's meridian system and improve the overall health of the participant's mind and body.
Melissa Dow
Traditional Indian Head Massage
Melissa Dow has trained in Traditional Indian Head Massage, and combines this with her skills in Hawaiian Shamanic healing techniques, Reiki, and Bodytalk Access. She also spends her time doing intuitive art designs, silk-screening, and is active in the volunteer and conscious community.
The session will be a deeply relaxing experience combining head and shoulder massage, energy balancing and sound healing.
Sandy Dow
Shamanic Healing
Sandy Dow fuses both ancient and modern teachings to create a healing environment, which helps guide people back to a gentler, more harmonious way of being in the world. In her private practice with both individuals and groups, she incorporates a combination of her skills in Shamanism, Energy Therapies, drum circle facilitation, and sound healing. Sandy's driving passion is her work with youth: she has worked in an addiction recovery program for adolescents; she assists in youth-at-risk programs; and she runs ongoing group circles for youth and women. Sandy's website is www.spiritlifebc.com
In this Shamanic healing session you shall find out what your guardian spirit animal is, and what wisdom it provides for you. This connection will provide you with a source of power, support, and protection for your life.
Alissa Martin
Yoga Therapy
Alissa Martin is a Phoenix Rising Yoga Therapy Practitioner-in-training as well as a 200 hour level Yoga Instructor. She loves the inspiration found in witnessing others in yoga… both in classes and in one-on-one sessions as well as experiencing her self through yoga practice and PRYT sessions. Both of these have found a permanent home in her life bringing enrichment and amazement.
Through both these modalities she offers facilitation of going within to find the inner teacher, exploring body/mind, acceptance and opportunities to energize and relax. Alissa feels that words do not adequately describe either… experiencing them is a must and she's always happy to accompany you on your journey.
Phoenix Rising Yoga Therapy comes from the belief that the body and mind are not separate and our bodies are great guides as they hold all aspects of our self. A session is an invitation to explore your self through movement, assisted yoga postures and dialogue.