30 Day Yoga Challenge
October 13, 2009
Surviving Your 30 Day Yoga Challenge
November 16, 2009
Join Our Team for the 24 Hour Yoga Challenge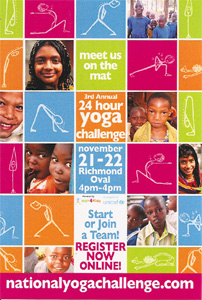 Help raise money for UNICEF's Unite for Children, Unite against AIDS campaign while practicing yoga with some of the best teachers in the city! Newport Yoga is sending a team to the 24 Hour Yoga Challenge, and we want you to take the challenge or sponsor our team. Apart from the yoga fun, there will also be music, games, prizes and treats.
the details
Dates: November 21st – November 22nd
Times: 4pm – 4pm
Location: Richmond Oval (view map)
Cost: $18
How to Participate
Join Our Team
The Newport Yoga Wild Things is looking for you! Come for a few hours or the full 24 challenge! If you can only make it for part of the challenge, just let us know what times work best for you.
If you're staying for the full challenge, bring a sleeping back and join the Yoga Sleepover (details unknown…. but we too are intrigued). There will be live music, games, prizes, snacks and beverages.
Sponsor the Team
Sponsor the Newport Yoga Wild Things by making a donation online here or visit us in the studio to make a donation by cash / cheque. Tax receipts will be issued for donations of $25 or more.