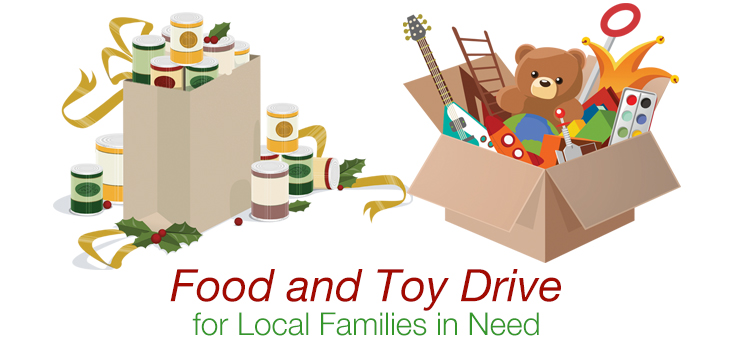 Each year our community has gathered food, toys, household items and money for a family in need in our local community. Your giving has been very generous, it is enough to meet the needs of many families for the holiday season. So this year, we will be giving centrally to SHARE Family & Community Service's Food Bank and Christmas Toy Shop. SHARE distributes the donations to those most in need, to make this season a more joyful one. In 2016, they assisted 1,219 local families during the holiday season.
Your donation must be received by Sunday December 17th, 2017.
Food Donations
Unopened, store-bought, non-perishable and non-expired items only. Check out a list of items most in need.
New Unwrapped Toys
Please consider giving a new unwrapped toy for SHARE's Christmas Toy Shop, where parent's in need can choose gifts appropriate for their children.
Gift suggestions
Books
Puzzles
A game the family can enjoy
Gift cards for teens & tweens
Toys for kids of all ages
Gift certificates for family outings (cinemas, etc)
Household Items
Laundry and dishwasher detergent, toilet paper, soaps, toothbrushes, toothpaste, paste.
Cash Donations
We are collecting cash donations at the front desk.
Canned or tetra pack soups
Vegetable – canned
Fruit – canned
Pasta & pasta sauce
Peanut Butter / Jam / Honey
Mayonnaise / Mustard / Ketchup
Salad dressing
Pancake syrup
Juice – carton
Coffee/Tea/Hot Chocolate
Canned tuna
Potatoes
Cranberry sauce/jelly
Real fruit juice
Tea, coffee, hot chocolate
Chocolate or candy canes
Stove-Top dressing
Foil Roasting Pan
Tin foil
Christmas candy/nuts
Cookies
Pasta/sauce/rice
Pancake batter
Cereals
Crackers
Cake mixes and canned frosting, brownie mixes
Community events include gatherings such as drum circles, free yoga days, and wellness clinics. They are the things we do together to interconnect, share experience, and raise awareness or money for an initiative (such as a local charity). We invite you to come out and meet others in the Kushala community.

Other Upcoming Community Events

27May

Join Shannon on a guided hike and outdoor yoga class at Buntzen Lake. Enjoy the surrounding beauty of nature as we hike around the lake loop, spend time in meditation, and finish with a grounding outdoor yoga class.