Stand Up Paddle Yoga
With Islena Faircrest
Join Islena for a fun evening of paddleboarding and yoga starting from Rocky Point Kayak. Whether it's your first time setting foot on a Standup Paddleboard or you've done it before, come enjoy an evening on the ocean, practicing yoga and building fitness.
For years Islena has taught beginners and introduced a love for paddling to many who never thought they'd have so much fun while learning so quickly.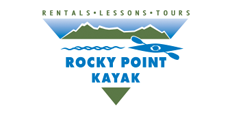 Enjoy a fun, safe and rewarding experience. Explore the inlet, admire nature, and try yoga and fitness on the water.
Registration cost includes board rental, paddle and life vest. Space is limited to 10 participants, with a minimum of 6 participants to run this event.
Bring a towel, water bottle, and a change of clothes. Non-cotton clothing recommended (yoga wear, or a swimsuit if hot).
This event is sold out. Join the September 6th SUP Yoga event.
Registration
Date: Wednesday August 28th, 2019
Time: 6:00pm - 7:30pm
Cost: $35.00 + tax