Yoga Movie Night: Wisdom
January 27, 2012
Wellness and Healing Clinic at Suter Brook
February 14, 2012
with Chris Brandt and Teresa Campbell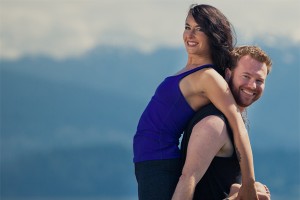 Explore the Playful Possibilities of Your Practice With a Partner or a Friend, using Partner Poses and Thai Massage.
In this rich, nourishing practice of duo asana, basic Acro Yoga and flying techniques, and closing with luscious Thai Massage, we learn about trusting, supporting and evolving each other. We experience increased presence, mindfulness, emotional intelligence and open-heartedness. Every encounter of this yoga love-in, hilarious or holy, awkward or divine, is a precious exchange and increases our capacity to give and receive.
This practice is open to couples, friends, siblings and complete strangers.
details
Friday March 9th
7 – 9 pm
Kushala Yoga at Suter Brook
$40 + HST per couple
about Chris and Teresa
Chris Brandt & Teresa Campbell unite divergent backgrounds into a common thread that is Contact Yoga. Chris has trained in India and Thailand, and is a certified in the Wat Po lineage of Thai Massage. Teresa has studied with amazing teachers from Gurmukh to Sarah Powers, and brings her experience leading prenatal yoga teacher training programs as well as doula work to Contact. They believe wholeheartedly that "the great art of life is sensation" (Byron).