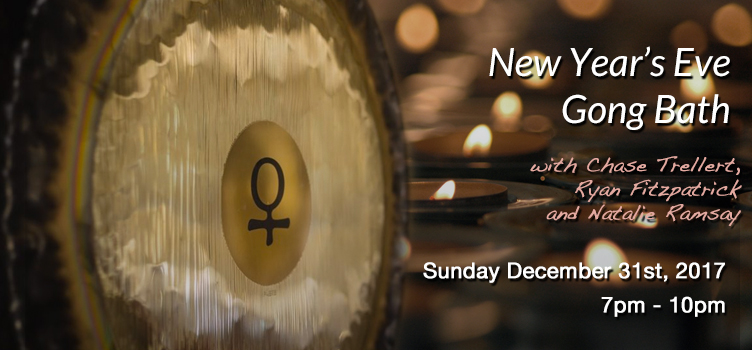 Come experience an unforgettable New Year's Eve surrounded by 20 gongs, and vocals and violin with Natalie Ramsay, creating a unique and magical journey through sound.
Listen to a sample of Natalie's music:
Register
New Year's Eve
Sunday, December 31st, 2017
7pm – 10pm
$70 + tax by December 24th
$80 + tax after December 24th
About Chase Trellert
Chase Trellert from Medicine of Sound uses gongs, crystal bowls, the didgeridoo and chimes to guide people through their internal landscapes. Most participants experience profound sensations during his workshops and leave feeling lighter and clearer afterwards.
About Ryan Fitzpatrick
Ryan Fitzpatrick has a passion for Gongs and he has in depth knowledge from years of experience with Sound Healing, Crystals and Meditation. He only performs a few shows per year and if you are lucky enough to have attended one of his shows then you will not be disappointed!
About Natalie Ramsay
Natalie Ramsay is a dream folk singer and guitarist. Her songs are alluring and melancholic and speak deeply to those who listen. Her music is described as haunting yet healing and can send students deeper into their yoga practice.
Workshops give you the opportunity to study, practice and refine a specific aspect of Yoga, with direct instruction from an experienced teacher. Kushala offers regular workshops from visiting and regular instructors on topics including yoga postures, breathing and meditation, lifestyle, ethics and philosophy.

Workshops are an excellent way to compliment and inspire your regular practice, and bring new skills and insights onto your yoga mat, and into your daily life.

Other Upcoming Yoga Workshops

7Jan

Join Shannon for her annual Visioning Workshop. We will work together to clear the clutter in your mind, making room for what it is your heart truly desires.

27Jan

Join us for a physical, mental and emotional experience to give yourself time to Reset Your Self with your heartfelt desire for 2018, in this 5-hour workshop.