Kids Christmas Yoga Workshop
December 1, 2010
NEW! Kushala Yoga Gift Cards
December 8, 2010
Journey Into the Subtle Body with Clara Roberts-Oss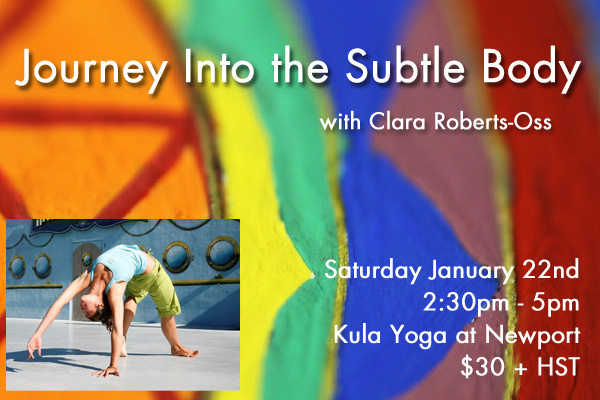 How do you expand your potential, and leave your yoga mat feeling more energized than you began?

We've all learned to move from the strength of our physical body and the will of our mind. Yet we are still bound by our aptitudes and weaknesses.
The secret to overcoming our limitations is to journey into the subtle body: the powerful energetic substrate underlying your physical form, from which your real-world body is born and recreated every moment of every day.
Drawing from the Satyanada lineage and Shiva Rea's Prana Yoga, Clara will artfully guide you on a journey to explore your subtle body through Kriyas (chakra purifications), pranayama, and a dynamic Vinyasa practice that will take leave you inspired, and excited to return to your mat.
You are guaranteed to reach new levels before you've realized that you've broken a sweat. Don't miss this opportunity to learn about your Self. It's what it's all about.
details
Saturday January 22nd from 2:30pm – 5pm
Kushala Yoga at Newport
$30 + HST
This workshop is now sold out. Send us an email if you'd like to be put on the waiting list.
About Clara Roberts-Oss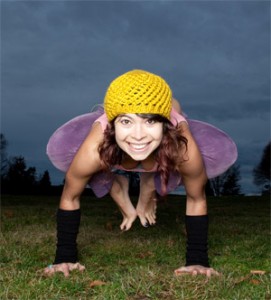 Clara is a masterful Vinyasa Yoga instructor. Originally from New York, she began teaching 8 years ago. Her popularity is founded on her boundless spirit, creative sequencing, and fluid connection to all those who practice with her. She thanks all her teachers for sharing their passion of this practice: "David Life for opening my heart, Stacey Brass for her minute cues that have changed me life, Uma for opening my voice, Shiva Rea for honoring the fluid body, Dana Flynn for throwing out all the rules and inspiring me to do the same, Constatine Darling for showing me another way, and Paul Ortega for reminding me we are ALL the cosmic dancer". Clara invites you to be playful in your practice, remembering that lightness is found in spirit!