Palm Readings
With Singh Modi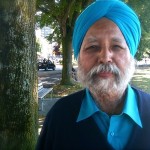 Singh Modi is a world-renowned palmist psychic, meditation teacher and healer. From Saturday August 17th – Monday August 19th, 2019, he is returning to Kushala Yoga to read palms.
Born and raised in Kashmir India, he realized at an early age that his calling was to teach, share wisdom stories and inspire others to discover their gifts. He has lived in New York since 1971 and has read over 60,000 palms. Singh has read the palms of many spiritual leaders, actors and writers.
Cost:
$70 for a 1/2 hour appointment
$120 for a 1 hour appointment
Paid in cash to Singh at the time of your appointment
Location: Suter Brook, Port Moody
Availability
Saturday August 17th
3pm – 4pm
Sunday August 18th
10am – 10:30am
12pm – 1:00pm
1pm – 2pm
2pm – 3pm
Monday August 19th
9:30am – 10pm
10:30am – 11am
11:30am – 12pm
1pm – 2pm
3pm – 3:30pm
To request an appointment or to be put on the waitlist, please email us your preferred day and time.