SmartYoga Anatomy with Jesse Enright
January 13, 2010
Kirtan Chant Night
January 14, 2010
Architecture of Asana with Chris Chavez
THIS WORKSHOP IS NOW SOLD OUT!
The nuts and bolts to building a stronger, more informed, and playful practice.
Join certified Anusara® instructor Chris Chavez for a workshop that will deepen your practice by exploring the basic anatomical elements necessary for a progressive, safe, and effective practice.
Expand your practice
Explore anatomy basics
Navigate more advanced poses and sequences
the details
Thursday March 11th, 2010
7:30pm – 9:30pm
$50 + GST
Due to the popularity of this workshop, refunds will not be given within after March 6th, 2010.
About Chris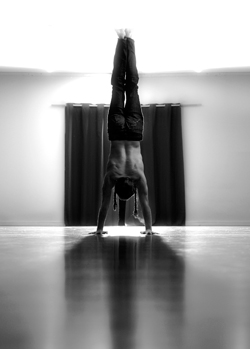 Chris Chavez, Certified Anusara Yoga Instructor, Yoga Alliance – E-RYT 500 & RYT 500, Lululemon Ambassador.
Certified Anusara Instructor, Chris Chavez, first began the practice of yoga in Ireland, where he was touring as a professional musician in the mid 1990's. While traversing the globe several times playing music and studying various methods of yoga, Chris imparted the knowledge and the gift of yoga upon everyone he met.
In 2001, Chris landed in Los Angeles, California, where he submerged himself into the practice and study of Anusara yoga as he began to teach and build community. Certified as an Anusara Instructor in 2006, Chris is amongst a very small and unique group of yoga instructors world wide that are renowned for their extensive studies, vast working knowledge of the mind and body, and great personable demeanors. Named as one of LA's top 10 yoga teachers, and his classes listed as one of the top 3 classes in LA, Chris is one of the most down to earth yoga teachers you will ever meet. His classes are fun, challenging, and spiritually uplifting.
Chris has found the power of practicing and teaching yoga to be an integral part of being a great artist as he continues to maintain a healthy music career and a rockin' yoga practice!