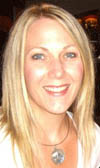 Shelly has always been a harmonizer seeking balance in all aspects of her life, so it is not surprising that she is deeply drawn to a style of yoga called Yin Yang Yoga. It is a practice that balances the body, mind & spirit and Shelly is extremely passionate about sharing this moving practice with others.
Shelly has been cultivating the tools that she brings to the mat her entire lifetime. She meets her students where they are and they embark upon a new exploration every class. Shelly believes in providing knowledge & fostering self acceptance and in so doing gives her students the tools to create a sustainable and enriching practice from the ground up, inside out.
Shelly feels that yoga mirrors life and should therefore be an evolution. In her classes you will find heart, challenges, and good music!
Shelly's Teaching Schedule
Sunday May 19th, 2013
Monday May 20th, 2013
Tuesday May 21st, 2013