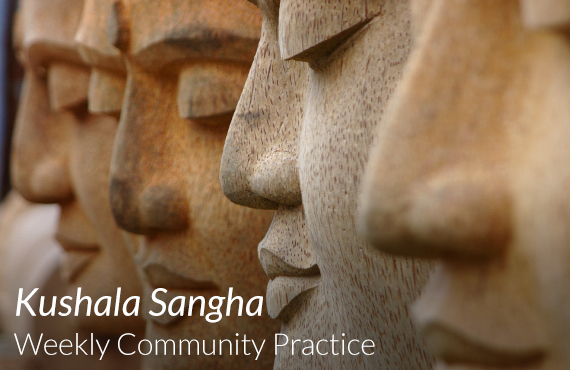 Zen Master Thich Nhat Hanh on the Importance of Community:
"Transformation is possible only when you are in touch. When you touch the ground, you can feel the stability of the earth and feel confident. When you observe the steadiness of the sunshine, the air, and the trees, you know that you can count on the sun to rise each day and the air and the trees to be there. When you build a house, you build it on solid ground. You need to choose friends in the practice who are stable, on whom you can rely."
Michael Stone taught that we practice to fully arrive in our lives. Our practice is not only supported by our teachers and a personal sense of willpower, but by the friends we practice beside, those with whom we can share fuller understanding of life's joys and challenges. The offerings of yoga reach far beyond postures, and as a group, we choose here to explore them.
On Wednesday evenings we invite you to the sangha. Sangha means community, and it is open to everyone on a drop-in basis. Our evening will begin with a meditation, facilitated by a Kushala teacher. We will then open into a discussion on selected topics ranging from yoga philosophy to current events that impact our community and lives. Some weeks, there will be readings and resources shared for future discussions. We hope you choose to come – your participation can be in quiet presence or expressing your perspective, feelings and ideas.

FAQs
What time is the sangha and where?
Every Wednesday from 8pm – 9:15pm, starting on September 27th, 2017
Kushala Yoga at Suter Brook, Port Moody
Do I need to know how to meditate?
No experience in meditation is required, we only ask that you try to "sit with" whatever comes up for you during the duration of the meditation as calmly as possible. If you are interested in learning more about meditation, we offer 5-week courses on Monday evenings and Saturday mornings.
What style of meditation will we be practicing?
The meditation will be a "lightly guided" mindfulness meditation. We will draw on some traditions from Zazen (Zen meditation) and Vipassana (Thervada Buddhist meditation) to bring structure to the meditation; including gongs / bells, candles, incense, and bowing. Do not worry if you do not know what to do, we will guide through any "formalities".
Will I be required to speak during the discussion group?
No. All participation is optional, and your very presence is a form of quiet participation. The practice of respectful listening is more important than what is spoken aloud. We do ask however that you stay for the full 75 minutes.
Do I need to sign up?
No, you can simply drop in. Please sign in at the front desk (no yoga pass required) so we can get a sense of who is coming from week to week. If it's your first time to the studio, leave a little extra time to get settled.
Will we be practicing yoga postures?
No, except for a seated posture for meditation.
What should I bring?
We have chairs and meditation cushions, but you are welcome to bring your own pillow or cushion if you have one. Wear comfortable stretchy clothing that is comfortable to sit in.
What does it cost?
The sangha is run by donation. Money will be directed in part to cover any costs that arise, and the remainder will be either: (a) donated to causes agreed on by the group, or (b) when there are guest teachers / presenters, donations may be used towards an honorarium.
What will we do each week:
Welcome and introduction, facilitated by a Kushala teacher
Meditation, facilitated by a Kushala teacher, 20 – 30 minutes
Discussion group, sharing tea and snacks, 30 – 45 minutes
Closing chant
What we will do some weeks:
Readings and resources may be shared to support discussion
Participants may suggest areas of interest for future discussion topics
In time, there will be opportunities for greater group participation – timekeeping the meditation, sharing snacks, activities outside Wednesday evening group.