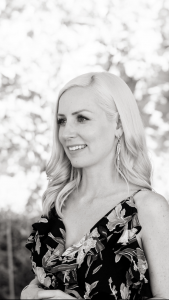 Annika has always enjoyed training in a variety of sports, including running, biking and swimming, but it is yoga that teaches her to listen to her body and know when it needs to work more or work less. Practicing the balance between effort and relaxation and being mentally present during each practice translates to other areas in her life and helps her to "stop and smell the roses" (or enjoy a glass of wine).
Yoga has helped Annika grow stronger, more flexible and more compassionate with herself and her training as a 200 hour Registered Yoga Teacher and Vinyasa Teacher Training as well as her daily personal practice have given her tools to share her passion with others. She creates classes that offer physical challenges but also encourages mindfulness so students can listen to what their body needs that day to help them achieve their goals.
An avid traveller, psychology nerd and music lover, Annika explores how combinations of movement with music can shift the intention or focus of each practice. She brings an energy and enthusiasm to every class and her favourite mantra is "right here, right now".
Annika Fortin's Teaching Schedule