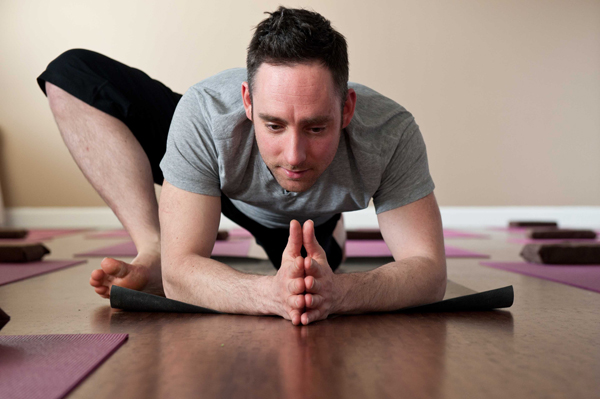 For Andrew, yoga is everywhere, existing artlessly within everything.
Andrew remembers as a young child, sitting quietly in his room, doing shoulderstand and working on breath manipulation. It did not come from a book or an outer source, this knowledge was already there. Now he sees this in his little girl, Neve, as she takes in deep breaths to soothe herself, and the familiar movements to crawl and walk. In this he recognizes the natural practices of yoga; asana, pranayama and kriyas.
In his mid-twenties, after several years frequenting the gym and being lost in life, he was introduced to his first yoga class. He instantly knew he was in a place very familiar, peaceful, challenging, humbling, and like home. Since than he has never looked back. Andrew has advanced his studies and continues to do so, taking several teacher trainings. First was Classical Ashatanga and Hatha Yogas at the Salt Spring Centre of yoga. After was Power Yoga with Catherine Munroe, and his most recent, Anusara teacher training with Chris Chavez.
Andrew's teaching is inspired by nature, people, and many different forms of energy movement. He loves the heat, fire, and challenge of Power Vinyasa, the biomechanics and the poetic theming of Anusara, the strength and the subtleties of Vijnana, the energy movement of Yoga Arts and Gung Fu, and the tradition and movement of Ashtanga.
Andrew now revels in how each one of these practices makes us feel. He aspires to share and bring these qualities into his classes.
Andrew Colyn's Teaching Schedule