Sherina Chandra, MEd, BCRPA, BEd, BA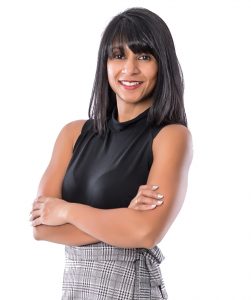 Holistic Wellness Coach
I am a certified personal trainer, a registered educator and an MA Counselling Psychology candidate. I intuitively use a mind, body, soul approach to personal training and wellness coaching.
My approach led by my inner-knowing takes you through a mindfulness, self-reflective, and intuitive process prior to goal-setting and program planning to raise your self-awareness which will make your fitness journey towards wellness much more enjoyable.
Claircognizance is an ability that I have of clear knowing. I use an intuitive technique called automatic writing which is channeled guidance via writing to provide an awareness and understanding of any challenges affecting personal wellness.
Furthermore, I provide guidance through a compassionate, person-centered lens and hold you accountable to your health, happiness and personal development goals. Also, I educate and bring awareness on other aspects of life such as basic nutrition, healthy relationships, self-care, sleep, and gratitude which are incorporated into your fitness plan whereby there is an overall focus on wellness as a whole.
A little about me: I have competed in fitness competitions. I was led to this lifestyle because as a career professional with 10 years of teaching experience, I have experienced burnout and an unhealthy lifestyle. Business, marketing, career development and healthy living have been areas that I enjoy teaching and have experience in. I am an advocate for mental health, raising awareness and removing stigmas. Lastly, I have a passion for writing. I use my writing abilities to manifest the type of lifestyle that I aim to live dedicated towards health and happiness. Intuitively, I use human design charts, oracles, automatic writing and Universal laws to raise awareness on one's wellness and lifestyle.
I look forward to coaching you towards your fitness inspired mind, body, and soul transformation!
Rates:
1 hour Wellness Session – $169 (taxes included) includes: intuitive guidance via automatic writing, fitness plan and wellness journals
1.5 hour Wellness Session – $222 (taxes included) includes: intuitive guidance via automatic writing, fitness plan, mini workout session and wellness journals
Additional sessions – $96 (taxes included) for 1 hour
Request an Appointment or More Information
Sherina is available for appointments at Kushala Yoga and Wellness. Please contact for availability.
To book an appointment please contact Sherina at sherina@kushalayoga.com or call 778.772.8593