Kushala Yoga is committed to providing our members diverse holistic health and wellness activities to enrich their daily lives. To date yoga has been our core offering, but through our engagement with a growing community, we are answering the demand to expand our clients' personal health programs with other complimentary healing modalities.
On October 2nd, 2011 we opened our Wellness Center in Suter Brook Village, Port Moody. Our new facility will house 2 private treatment rooms and 2 studios. If you are a therapist, healer, or holistic health practitioner looking to grow your business with an established and ever-growing community, we would like to extend the opportunity to join our team. To learn more, read about our services, benefits and rental rates. If you are interested in pursuing this opportunity, or have any further questions, contact us at wellness@kushalayoga.com.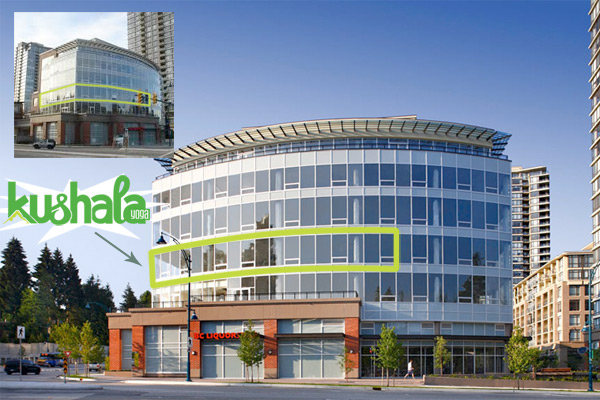 Private Room Rental Includes
100 square foot, warmly decorated private room
Equipped with healing table, rolling stool, iPod dock, aroma diffuser, dimmable lights
Website profile page on our high traffic website www.kushalayoga.com (1800+ unqiue visitors / week)
Props including bolsters, blankets, foam blocks, straps, chairs
Flexible rental schedule: 4-hour blocks available in the morning, afternoon or evening (choose to rent 1 – 10 blocks weekly)
Kushala business cards and @kushalayoga.com email address (with 6 month contract)
Other Benefits
Instant exposure to client base of 3000+
Ample free parking in Suter Brook, with elevator and stair access
Extended business hours 6am – 9:30pm, 7 days / week
Warm reception area with seating and tea service
On-site washrooms and change facilities
Discounted yoga membership for you and your clients
Payment processing services (with handling fee)
Private Room Rental Rates
# Blocks / Week
1
2
3
4
5
6
7
8
9
10
Monthly Rate
$200
$360
$540
$720
$800
$960
$1,120
$1,280
$1,440
$1,600
Hourly (no contract)
$20 / hour
4-hour blocks are available at the following times, 7 days a week:
8am – 12pm
12:30pm – 4:30pm
5pm – 9pm
Choose to rent 1 – 10 blocks weekly.
Monthly rates are billed monthly, for a minimum 6-month contract. Hourly rates are billed at time of booking. Applicable taxes are not included. Advertised rates subject to change.
Studio Rentals
Our main studio (Eka Studio) is a 1350 square foot space with bamboo floors, natural light, sound system, and a beautiful view of the mountains and trees. Rental Rate: $75 / hour. Contact us for rental inquiries.
Our second studio (Dve Studio) is a 950 square foot space with bamboo floors, natural light, sound system, and a peaceful ambiance. Rental Rate: $50 / hour. Contact us for rental inquiries.