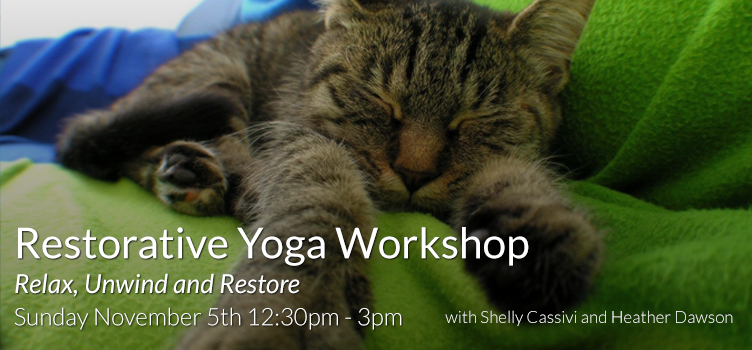 Relax, Unwind and Restore with Shelly Cassivi & Heather Dawson
Spend the afternoon melting away stress and tension. This workshop moves you through deep nurturing and fully supported poses, releasing stress from the body and mind, by doing this you will restore your natural energy. With our busy lives our sympathetic nervous system is in overdrive, for the body to restore itself we need to move into our parasympathetic nervous system – restorative yoga will help you do that.
Benefits of restorative yoga:
deepens breath
reduces stress hormones
lowers heart rate, blood pressure and cortisol levels
relaxes muscles
lowers anxiety
relieves chronic pain
details and registration
Sunday November 5th, 2017
12:30pm – 3pm at Suter Brook
Cost: $39 + tax
Workshops give you the opportunity to study, practice and refine a specific aspect of Yoga, with direct instruction from an experienced teacher. Kushala offers regular workshops from visiting and regular instructors on topics including yoga postures, breathing and meditation, lifestyle, ethics and philosophy.

Workshops are an excellent way to compliment and inspire your regular practice, and bring new skills and insights onto your yoga mat, and into your daily life.

Other Upcoming Yoga Workshops

18Nov

Come experience an evening of healing, beginning with yin yoga in a soundscape of instrumentals, followed by a deep gong bath and sound meditation with Chase, interwoven with Natalie's angelic vocals.

19Nov

Through targeted self­-massage trigger point therapy using high-grip rubber balls, reduce pain and ease tension in your body.