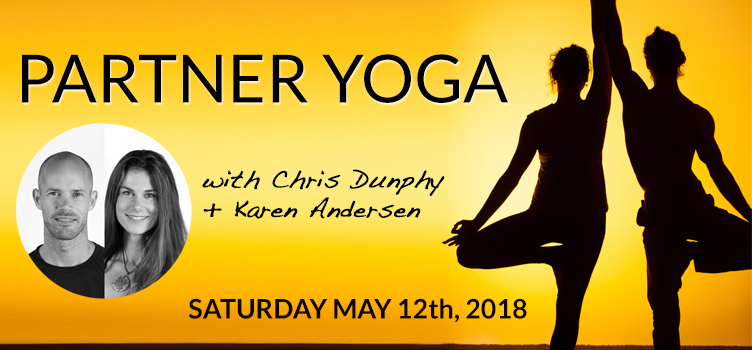 Join Chris and Karen for Partner Yoga – a playful way to experience the benefits of yoga and deepen the shared connection to a friend, family member or loved one. In this workshop we will practice partner assisted postures and stretches, using traction, leverage, resistance (read more) and balance support to cultivate a deeper experience of your body. Through step-by-step guidance, props, and multi-level variations, this workshop is suitable for you and your partner even if you are new to the practice.
Registration Information
Saturday May 12th, 2018
11am – 12:30pm
$40 + tax for 2 people
Free for Advantage Members (and their partner)
More About Stretching
In this workshop we will be applying Proprioceptive Neuromuscular Facilitation techniques (PNF). PNF stretching has been proven to improve active and passive range of motion. It can be used to supplement daily, static stretching and has been shown to help athletes improve performance and make speedy gains in range of motion. Not only does it increase flexibility, but it can also improve muscular strength.
Workshops give you the opportunity to study, practice and refine a specific aspect of Yoga, with direct instruction from an experienced teacher. Kushala offers regular workshops from visiting and regular instructors on topics including yoga postures, breathing and meditation, lifestyle, ethics and philosophy.

Workshops are an excellent way to compliment and inspire your regular practice, and bring new skills and insights onto your yoga mat, and into your daily life.

Other Upcoming Yoga Workshops

29Apr

Join Shannon on a guided hike and outdoor yoga class at Buntzen Lake. Enjoy the surrounding beauty of nature as we hike around the lake loop, spend time in meditation, and finish with a grounding outdoor yoga class.

5May

Cacoa has been used as a ritual medicine by indigenous peoples of North America for thousands of years. Join Chase Trellert, Clare Nolan for a healing evening of song, intention-setting, and a sound bath.

9Jun

Although parenting is a rewarding and nourishing experience it can also at times be stressful and emotionally challenging. This workshop will introduce parents to mindfulness based parenting and how to introduce mindfulness into the home.