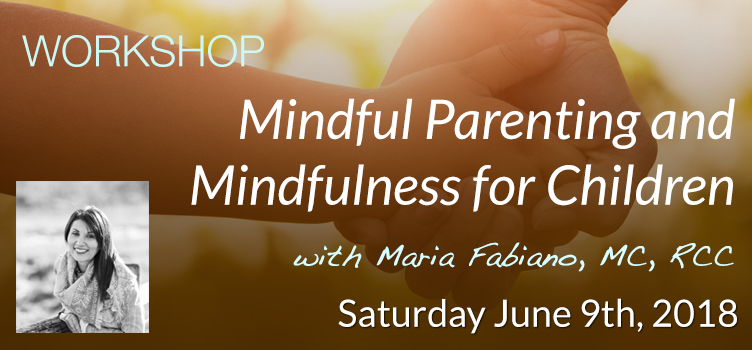 Although parenting is a rewarding and nourishing experience it can also at times be stressful and emotionally challenging. This workshop will introduce parents to mindfulness based parenting and how to introduce mindfulness into the home. In this workshop parents will be introduced to mindfulness based parenting strategies to help improve their own ability to listen and communicate with their children along with tools to help children regulate their emotions. Parents will also learn how to teach mindfulness based practices to their children in fun interactive ways.
Gain an introduction to the practice of mindfulness and mindful parenting
Develop an awareness of the connection between emotions and stress.
Learn how mindfulness based skills can help regulate children's emotions.
Learn how mindfulness skills can help bring awareness to our own patterns of reactivity as parent
Learn simple mindfulness based skills that can help parents improve their own ability to listen and communicate with their children
Learn how to introduce and teach mindfulness practices to children in a home environment.
Registration Info
Saturday June 9th, 2018
1pm – 4pm
$55 + tax
About Maria Fabiano, MC, RCC
Maria has a Master's Degree in Clinical Counselling and is a Registered Clinical Counsellor with British Columbia Association of Clinical Counsellors. She works in private practice with children, youth and adults struggling with depression, stress and anxiety. She is also a certified yoga instructor and has been teaching yoga since 2003. Maria has practiced and studied Eastern based wisdom practices such as yoga, mediation and mindfulness for over 20 years and often integrates these wisdom based practices into her work with clients.. Maria has over 10 years of experience facilitating workshops that delve deeper into these teachings and that help individuals begin to integrate the wisdom of these teachings into their everyday lives.
Visit Maria's website: www.mariafabiano.ca
Maria's email: mariafabianocounselling@gmail.com
| | |
| --- | --- |
| | Do you feel negatively impacted by stress and anxiety, seasonal mood changes, chronic pain, or are you recovering from a loss? Do you feel emotionally blocked, or hyper-sensitive to the changing environment around you? Are you curious about energy healing and it's benefits? We offer workshops, wellness fairs and individual appointments through our Wellness Centre at Suter Brook, Port Moody. |
Workshops give you the opportunity to study, practice and refine a specific aspect of Yoga, with direct instruction from an experienced teacher. Kushala offers regular workshops from visiting and regular instructors on topics including yoga postures, breathing and meditation, lifestyle, ethics and philosophy.

Workshops are an excellent way to compliment and inspire your regular practice, and bring new skills and insights onto your yoga mat, and into your daily life.

Other Upcoming Yoga Workshops

21Jul

Join Chase Trellert and musical guests for an evening of song and sound. Sing Mantras, medicine songs and healing songs from around the world. Experience a soundscape of instrumentals, a deep gong bath and sound meditation.