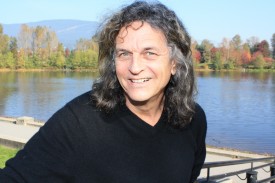 Chris is our oldest instructor at Kushala and has created Zoomer Yoga for those in the 'prime of life'. He recognizes the changes our body goes through and the huge benefits Yoga can bring to those in their 40s 50s 60s and beyond. He plans to age with strength, flexibility and grace and invites other Zoomers (baby boomers with 'zip') to join him on this most fascinating journey.
He has been practising Yoga off and on for 28 years and teaching for over 13 years. His training was in Rishikesh, India – the Yoga capital of the world and where the Beatles went to study meditation.
What is Zoomer Yoga? It is similar to a Hatha or Vinyasa flow class – you are always moving – but there is a longer warm up period and props are used throughout the class. Props allow you to get into the pose easier (the 'dynamic' aspect) and stay in the pose longer (the 'static' aspect). There are lots of variations offered within the poses and the asanas change weekly to give a unique practice.
Chris' deep knowledge and enthusiastic teaching make his classes not to be missed.
Chris believes that Yoga really is for everyone. He also teaches weekly Seniors Yoga at local retirement homes, older Kids Yoga at a public school and Kids Yoga at a local preschool. He often shifts from 1 year-olds to 99 year-olds in the same day! Talk about a unique perspective on the diversity of Yoga.
His passion, however, is with Zoomers. This is his age group and the practice has been fine-tuned over the years to deliver an awesome Yoga class for students of all levels.
Check out his website at zoomeryoga.comto learn more about his unique yet familiar style and see some great pictures of India and Nepal.
Chris Ridout's Teaching Schedule
Wednesday July 18th, 2018
Thursday July 19th, 2018