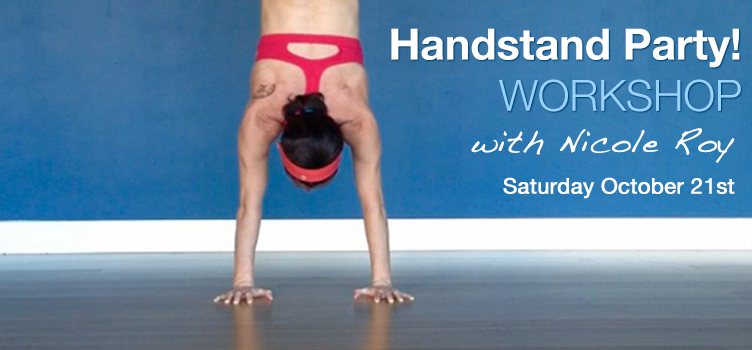 In this intermediate level workshop we will learn how to develop the upper body strength, core strength and flexibility required to balance on our hands as well as the techniques necessary to balance safely and effectively.
Learning Areas
Learn how to build more strength in the shoulders, hands and arms
Learn how to strengthen and engage your core muscles effectively
Learn various ways to enter a handstand
Learn how to safely balance on your hands
Learn how to fall
Suitable for all ages. Recommended experience: Comfortable in down dog, plank and forearm plank. An interest in inversions.
Registration Info
Saturday October 21st, 2017
1pm – 3pm
$35 + GST
Workshops give you the opportunity to study, practice and refine a specific aspect of Yoga, with direct instruction from an experienced teacher. Kushala offers regular workshops from visiting and regular instructors on topics including yoga postures, breathing and meditation, lifestyle, ethics and philosophy.

Workshops are an excellent way to compliment and inspire your regular practice, and bring new skills and insights onto your yoga mat, and into your daily life.

Other Upcoming Yoga Workshops

5Nov

Join Shelly and Heather in a healing workshop to help melt away stress and tension through Restorative Yoga.

18Nov

Come experience an evening of healing, beginning with yin yoga in a soundscape of instrumentals, followed by a deep gong bath and sound meditation with Chase, interwoven with Natalie's angelic vocals.

19Nov

Through targeted self­-massage trigger point therapy using high-grip rubber balls, reduce pain and ease tension in your body.