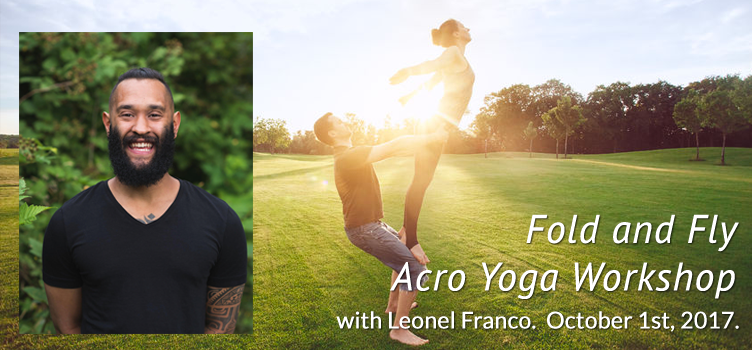 Acro Yoga is a great way to play with movement in a partnership or group setting. In Fold and Fly, we will break down the steps of entering the practice of Acro Yoga for beginners, guide you through the fundamentals of being upright and upside down, and propose new techniques for those playing at an intermediate level. Acro Yoga is an all-inclusive practice of movement; whether you're flying or grounded as the base, you will be enlightened to a new way of expressing yourself.
You will learn:
• How to set yourself up to be a successful base
• Safety in flying
• The key role of spotting
• Conditioning exercises to build strength and stamina
• Manual release techniques
• A new way to have fun
Registration Information
Sunday October 1st, 2017
12pm – 3pm
$49 + tax
Instructor: Leonel Franco
Leonel Franco
When Leonel was a young teen, he experienced the tragic death of a mentor's son. This began his journey into the world of Yoga, as he then realised he had not given Love the opportunity to shine in his life. Leonel went on to study Hindu and Rastafari religions, as well as Zen and Tao forms of meditation. He then studied at Prana Yoga College, to learn from Shakti Mhi, a teacher for whom he had profound respect and admiration. Leonel has also completed an additional 200 hour Yoga Teacher Training through Savoir Yoga, under Jolene Bayda and Troy Turi. He is also certified in Yin Yoga through Jolene Bayda and AcroYoga through AcroYoga VanCity. In class, Leonel aims to create an open environment in which he will remind you to breathe; creating an atmosphere which encourages introspection and laughter. When not teaching, he can be found watching Viceland, drinking fine wine and folding laundry. He whole-heartedly feels that the practice of Yoga is life, and life is the practice of Yoga.
Workshops give you the opportunity to study, practice and refine a specific aspect of Yoga, with direct instruction from an experienced teacher. Kushala offers regular workshops from visiting and regular instructors on topics including yoga postures, breathing and meditation, lifestyle, ethics and philosophy.

Workshops are an excellent way to compliment and inspire your regular practice, and bring new skills and insights onto your yoga mat, and into your daily life.

Other Upcoming Yoga Workshops

23Sep

Are you curious to learn more about the roots and relevance of yoga's diverse practices beyond the familiarity of yoga postures? In this workshop, we will examine and discuss the underlying principles and practices that support not just how we "do yoga" on our mats, but also how they can lend clarity of the mind and heart to lead a more grounded, engaged and awakened life.

14Oct

Join us for a physical, mental and emotional experience to give yourself time to reset in this 5-hour mini-retreat.

20Oct

Autumn is the time to descend. Come journey inward as you release all that obscures your soul re-discovering your true being. Shelly and Chase will weave together a tapestry of sound as they blend the vibrations of crystal singing bowls, gongs, chimes and various other instruments.