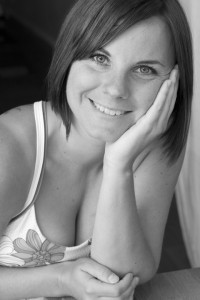 Shannon thanks her mom for taking her to her first yoga class about 15 years ago. This led her on a path of self-exploration and inner healing. Shannon focuses on providing options for her students – "Expressing the importance of listening to your intuition and be guided by that inner voice – exploring the possibilities safely and with intention."
Shannon is a trained teacher of Hatha Yoga, Kids Yoga and Prenatal Yoga and compeleted her Anusara Teacher Training with Chris Chavez in January 2011. Shannon is passionate about teaching yoga and wants to spread the joy of yoga to all ages. Shannon has worked with children and youth for over 15 years, has two children of her own and loves the energy, curiosity and innocence that children bring to her life.
Shannon is inspired by other yoga teachers and regularly attends classes and workshops to learn and further deepen her practice and teaching. When not practicing yoga, Shannon loves to play outside – mountain biking, snowboarding, rollerblading, camping and taking her children to the local parks and beaches. Her love of traveling has taken her to some beautiful places on this planet.
Shannon's Teaching Schedule
Thursday May 23rd, 2013
Friday May 24th, 2013