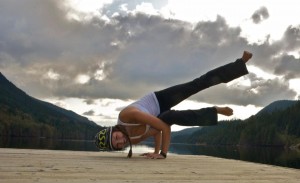 Prestonne attended her first yoga class at the age of 16 at a local community centre. She was immediately drawn to the practice by the fusion of body, mind and breath in a challenging and rewarding exercise. After her first 40 day challenge in the spring of 2010, Prestonne was hooked on yoga and began to practice on a daily basis. She pursued her yoga career by attending the 200hr Yoga Alliance teacher training in the summer of 2011 at Kushala Yoga. She now maintains a regular practice and loves to expand her knowledge of yoga by attending a mixture of Hatha, Vinyasa and power classes taught by a variety of teachers.
In Prestonne's class you can expect a feel good vibe and lots of good tunes. Come ready to play, laugh, relax and rejuvenate your body through deep breathing and lots of stretching. Prestonne encourages her students to listen to their bodies, while simultaneously testing their limits and growing both in a physical and mental capacity.
When not practicing yoga, Prestonne loves to spend her time outdoors and values a healthy, active lifestyle. You can often catch her hiking with her dog around Buntzen lake, skiing or snowboarding at the local mountains or riding her bike along the inlet trails in Port Moody.
Prestonne's Teaching Schedule
We're sorry these classes haven't been scheduled yet.