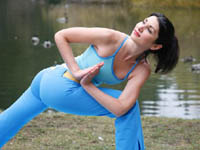 In Maria's classes students can expect a strong emphasis on breath and alignment as they are guided through a dynamic and often challenging sequence of postures. Precise and detailed instructions are given along with a variety of different levels and variations shown. The environment is always nurturing and supportive. Sequences can be challenging and are often designed to build the heat in the body while keeping the mind fully present.
Why I practice: My shift to yoga came well over ten years ago now while working in a fast paced, deadline driven job. Anxiety ridden, my only solace was my yoga practice, that hour and half of time spent being fully present and in the moment. It was on my mat that I found myself, who I was, how I wanted to live, what I wanted to do. Today I step on my mat daily to connect with my breath, my spirit, my ever changing body and find peace amongst the chaos. I am inspired by the amazing women in my life. Nature. Music. Words. The unconditional love of animals. Good whole vegetarian food. My children.
Maria is recognized as a senior teacher by YogaBC 500hr. Maria's has been practicing and teaching Ashtanga/Power Yoga for over ten years and her training is rooted in the classical Ashtanga Vinyasa method.
Maria's Teaching Schedule
Thursday May 23rd, 2013
Saturday May 25th, 2013